North Shore Music Theatre
Gets "All Shook Up"
"Three's Company's" Joyce DeWitt Stars
Next up at North Shore Music Theatre in Beverly is the rockin' '50s musical "All Shook Up," featuring 25 of Elvis Presley's greatest hits and starring "Three's Company" star, Joyce DeWitt!. Directed by Russell Garrett and choreographed by Kiesha LaLama, the production will play August 14 - 26.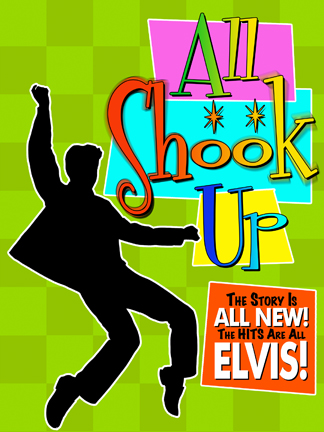 "All Shook Up" is loosely based on William Shakespeare's "Twelfth Night" and tells the story of a guitar playing roustabout who rides into a struggling square Midwest town and changes it forever through the power of love and rock-and-roll.
Written by Tony Award winner, Joe DiPietro ("Memphis," "Nice Work if You Can Get It," and "I Love You You're Perfect, Now Change"), the show features the classic hit songs "Heartbreak Hotel," "Burning Love," "Jailhouse Rock," "Blue Suede Shoes," "It's Now or Never," "Don't Be Cruel" and "Fools Rush In."
Joyce DeWitt stars as Mayor Matilda Hyde. While DeWitt is most widely known for her starring role as Janet Wood on the long-running ABC Television hit series "Three's Company," she also has an extensive background in the theater. In a stage career that spans more than 40 years, she has starred most recently in "Love Letter's" with Tab Hunter, "It's Connecticut" by "The Simpson's" writer Mike Reiss, "Miss Abigail's Guide to Dating, Mating and Marriage!," "A Scattered, Smothered and Covered Christmas Musical" the Canadian premieres of the Pulitzer Prize winning play "Dinner With Friends" and Alfred Uhry's Tony Award-winning play "The Last Night of Ballyhoo."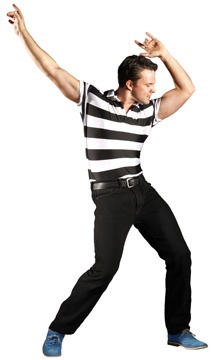 The cast of "All Shook Up" features Dara Hartman, Ryan Overberg (at left, as Chad), Eric Hatch, John Hillner, Jannie Jones, Paul Sabala, LaQuet Sharnell, and J.T. Turner.
The ensemble includes Matt Allen, Amanda Bailey, Michael Campayno, Andrea Collier, Marlana Dunn, Rachel Fairbanks, Jesse Jones, Joshua Keith, Joe Moeller, Kyle McAdam, and Mia Michelle McClain.
"All Shook Up" opened on Broadway in 2005 with a cast led by Cheyenne Jackson, who would go on to major roles in "Xanadu," "Finian's Rainbow," "The Heart of The Matter," and the Encore production of "Damn Yankees."
Free Audience Enrichment Events:
Meet the Theatre
August 21, following the 7:30 p.m. performance
August 25, following the 2 p.m. performance
Post-show audience discussion with the artists
OUT at the North Shore
August 23, following the 7:30 p.m. performance
An evening for the Gay and Lesbian Community with a post-show reception
(Sponsored in part by Ryan & Wood Inc. Distilleries and Sparkling Soirées)
For tickets and information, stop by the box office, call 978-232-7200 or visit www.nsmt.org.
-- Photo: Paul Lyden