"Good People"
Begins Fall Season
At The Huntington
Pulitzer Prize Winner Opens September 14
The Huntington Theatre Company will kick off its Fall season with the Pulitzer Prize-winning and Tony Award-nominated "Good People," written by Boston native David Lindsay-Abaire (below). Directed by Acton native Kate Whoriskey, the production runs September 14 – October 14.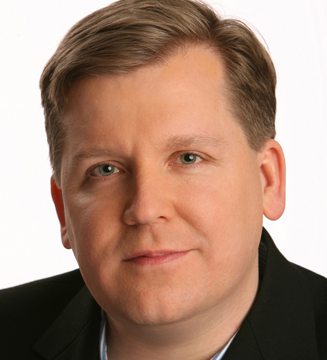 Called "Enthralling and utterly gripping" by The Los Angeles Times, "Good People" takes place in South Boston, where this month's paycheck covers last month's bills and Bingo is a night on the town. Sharp-tongued single-mom Margie Walsh has just been let go from yet another job and is facing eviction. Scrambling to make ends meet for herself and her developmentally disabled adult daughter, she looks up an old flame -- now a fertility doctor living in Chestnut Hill with his young wife -- hoping he'll help her make a fresh start.
Lindsay-Abaire's humor-filled Broadway hit about identity, fate and class features Johanna Day ("God of Carnage" and "Carol Mulroney" at the Huntington) as Margie Walsh.
The cast also includes local favorites Nancy E. Carroll ("Brendan" and "Present Laughter" at the Huntington) and South Boston native Karen MacDonald ("All My Son" and "Before I Leave You" at the Huntington) – onstage together for the first time in their long and illustrious careers – as Margie's Southie friends. Michael Laurence ("Desire Under the Elms" on Broadway) is the high school boyfriend Margie tracks down in Chestnut Hill.
"Good People" paints a very different portrait than recent films and literature of the storied Boston neighborhood. Rather than gritty or crime-laden, as depicted in "Good Will Hunting" and "The Departed," "Good People's" South Boston is drawn from the neighborhood in which Lindsay-Abaire grew up -- one populated by everyday people whose individual situations either held them in the neighborhood or offered them a path out.
Lindsay-Abaire's path out was forged in part by a scholarship from the local Boys and Girls Club to the prestigious Milton Academy. There, his gift for writing was nurtured, and he subsequently became a playwright, librettist, and screenwriter.
Lindsay-Abaire commented, "I spent many-a-summer with my dad selling fruit out of the back of his truck on a corner of Huntington Avenue right across the street from the Huntington. I would sell bags of plums to kids from BU and wonder what kinds of plays were performed inside. It was both thrilling and surreal to be inside that very theatre many years later, watching the Huntington's wonderful production of my play 'Rabbit Hole.'"
"I'm excited to be back with Good People, especially since it's very much about and inspired by my hometown. It's about class in America. It's about choices and luck, and lack of both. It's about the good people sitting inside that building in plush theatre seats, and the equally good people selling fruit out on the corner. I can't think of anywhere I'd rather see this play performed."
David Lindsay-Abaire's plays also include "Fuddy Meers," "Kimberly Akimbo," "Wonder of the World," and "A Devil Inside." Lindsay-Abaire is also a screenwriter, lyricist and librettist. He has been nominated for a Grammy Award and two Tony Awards (Best Score and Best Book of a Musical) for his work on "Shrek The Musical" and the Kleban Award as America's most promising musical theatre lyricist. Lindsay-Abaire's screen credits include the film adaptation of "Rabbit Hole" (starring Nicole Kidman, Academy Award nomination) and the upcoming "Rise of the Guardians" (Dreamworks) and "Oz: The Great and Powerful" (Disney).
Kate Whoriskey directed "The Miracle Worker" on Broadway. Her Off Broadway credits include "How I Learned to Drive" (Second Stage Theatre), "Ruined" (Manhattan Theatre Club, Drama Desk and Lucille Lortel Award nominations), "The Piano Teacher" (Vineyard Theatre), "Oroonoko" (Theatre for A New Audience), the world premieres of "Fabulation" and "Inked Baby" (Playwrights Horizons), and "Massacre" by José Rivera (Labyrinth Theater Company, member). Internationally, she directed "Magdalena" (Chatelet Theatre, Paris).
For tickets and information, stop by the box office at 264 Huntington Avenue, call 617-266-0800 or visit huntingtontheatre.org.