Charles Busch's "The Third Story"
In New England Premiere
At Titanic Theatre
Titanic Theatre Company will present the New England premiere of Charles Busch's poignant comedy, "The Third Story," from August 9 - 18 in the Black Box Theatre at the Arsenal Center for the Arts, 321 Arsenal Street in Watertown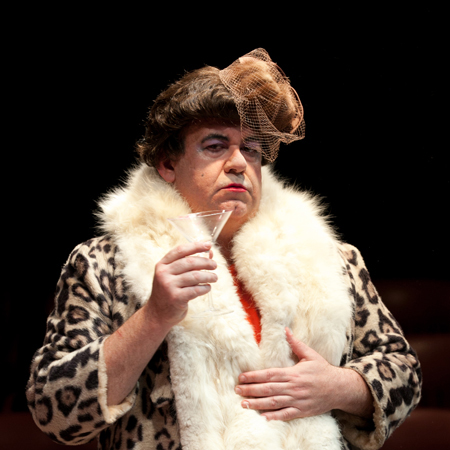 Boston favorite, Rick Park, at left, ("The Friends of Eddie Coyle," "The Bad Seed"), will star as Queenie Bartlett, the undisputed and way too well-dressed first lady of crime in the 1940s. Also featured in the cast are Shelley Brown, Erin Eva Butcher, Alisha Jansky, Brett Milanowski and Jordan Sobel.
Incorporating vintage cinematic elements from film noir and science fiction, "The Third Story" uses stories to explore the complicated relationship of a mother and son screenwriting team. As they collaborate, the script comes to life, featuring arch-typical characters from classic films including a gangster who's afraid of heights, his devoted mother and conniving moll, a buttoned up scientist intent on human cloning and her botched experiment. Gangster flicks, fairy tales and B-movie sci-fi collide in this epic comic fable, directed by Elliot Norton Award winner, Adam Zahler ("Breaking the Code," "Talley's Folly").
Charles Busch is the author of "The Divine Sister," "Red Scare on Sunset" and "Vampire Lesbians of Sodom." His play, "The Tale of the Allergist's Wife" (for which he received a Tony nomination), ran for 777 performances on Broadway. He wrote and starred in the film versions of his plays "Psycho Beach Party" and "Die Mommie Die! "
Rick Park is both an actor and playwright. His play, "The SUperheroine MOnologues," co-authored with John Kuntz, has had successful runs in Boston and Los Angeles. As an actor, he has appeared in more than 800 performances of the long-running comedy "Shear Madness"
For tickets and information, call 617-923-8487 or visit www.titanictheatre.com.
-- Photo: Evgenia Eliseeva