A Review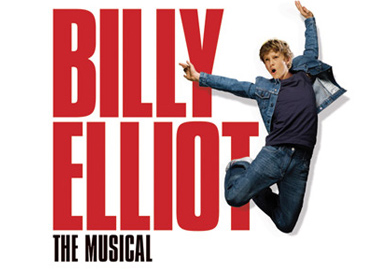 Like A Fire Deep Inside
By R. J. Donovan
Four years after "Billy Elliot" first kicked up his heels on Broadway, the Tony Award-winning hit has plunked itself down in Boston for a four week run at The Opera House. The show is at once funny and touching, bawdy and sweet, exhilarating and passionate.
Based on the popular 2000 film of the same name, the captivating show has music by Elton John with lyrics and a book by Lee Hall (who wrote the screenplay for the film). Stephen Daldry directs, while the exceptional choreography is by Peter Darling.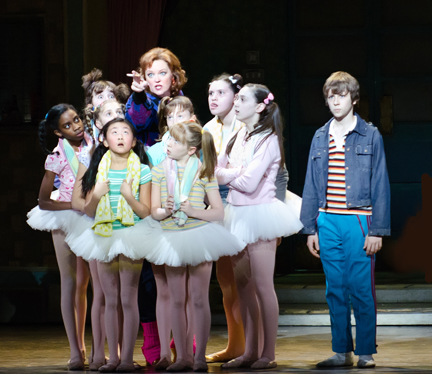 The plot follows a boy in a northern English mining town who turns his attention to dance. He's being raised by his Dad; his mother's long dead.
There's tough times in the gritty town of County Durham. It's 1984 and the miners, including Billy's Dad and brother, are on strike. Plus, he's supposed to be taking boxing lessons every day after school. In reality, he's been going to ballet class -- initially by accident, but soon with a confusing love of the art. The surprise to both him and his teacher, as he goes from clunky klutz to graceful artist, is that he's got real ability.
Conflict arises when Billy's Dad finds out he's been ditching boxing for ballet. In fact, he's enraged. But with a little reflection, and seeing his own life at a dead end, he soon understands that his son's talent could provide him with a way out of town and on to a better life.
The sweet spot in all of this is that the entire hard-edged mining town rallies to chip in whatever loose change they can spare to send Billy off to The Royal Ballet Academy in London.
Simple enough, but it's played out with enormous heart and humor. The cast, from the adults to the kids, is exceptional. The adults are raw and believable. And the kids are expressive beyond their years.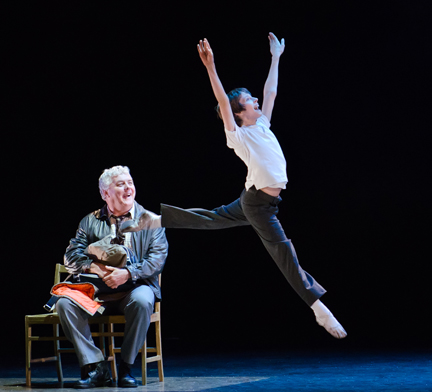 Billy is played by a rotating quartet of dancers during the Boston run. On Opening Night, Kylend Hetherington (at left) had the role, giving a thoughtful performance and dancing with such emotion that he stopped the show half way through the second act.
His Dad is played by Rich Hebert (far left, with Hetherington), who has local connections. (During a break in his acting career, he lived on the South Shore and reportedly taught school in Quincy.) He's great as the single father trying to hang on to a life that's grown bleak. Hebert gets his solo moment with "Deep Into the Ground" after imbibing a bit too much at the Miner's Christmas party.
As Billy's grandmother, Patti Perkins is a hoot. Lacking a sensor for her comments, she's a cannonball of slams and gestures, mouthing off at the drop of a pasty. She and Billy share a poignant moment at the end of "We'd Go Dancing" in which she tells, with great heart, the story of her less than perfect late husband.
The family unit is completed by Cullen R. Titmus as Billy's brother Tony. And Broadway veteran Joel Blum is great as Billy's crusty boxing coach.
Playing Billy's dance teacher, Mrs. Wilkinson, Janet Dickinson is a take-no-prisoners, piss-and-vinegar, blue collar dame with a cigarette never far from her lips. She, too, is just trying to get by, teaching classes she acknowledges are probably nothing more than crap. Still, her soul is touched when she sees the raw talent and potential in Billy. Never very warm and fuzzy, she extends herself for the boy who could go far. Dickinson is great in "Shine" as she tries to teach her hapless minions the finer points of selling a performance.
The girls in Mrs. Wilkinson's class are yet another example of how tight this cast is. These young dancers, bright and funny throughout, are an expressive group as they go through their comical paces.
In a jewel of a performance, Cameron Clifford plays Michael, Billy's best friend (two young actors rotate in this role as well). This young guy has the talent, comic timing and the detailed mannerisms of a much older actor. Turns out little Michael likes to dress in girl's clothes, a fact he shares with Billy in a funny Mutt & Jeff musical number called "Expressing Yourself."
Tough, little, mouthy Michael is also gay, while Billy, inexplicably drawn to the dance, is not. The moment they share this is touching.
The staging of the show is sharp throughout. The production cleverly shows the conflicts of life in Durham through the juxtaposition of the miners on strike, the police in the streets, and the kids in dance class. The formations of "Solidarity" display this splendidly. The politics of the mining situation is later addressed in "Merry Christmas, Maggie Thatcher" during a traditional Christmas Panto.
"Born To Boogie" allows Mr. Braithwaite, the accompanist at Mrs. Wilkinson's dance school, to let his hair down. As Braithwaite, Job Christensen joins Hetherington and Dickinson in a comical turn that builds and builds.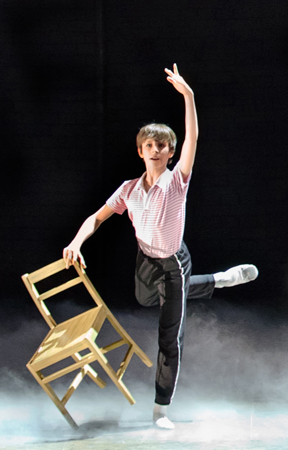 One of true highlights of the night is the fantasy moment the young Billy, truly coming into his own, dances an ethereal "Swan Lake" with his future self (played by Maximilien A. Baud ). Emotionally staged, and allowing Billy to take flight, the number draws a huge and rightly deserved hand from the audience. This is also the moment Billy's father witnesses him dancing, marking the turning point in him supporting his son.
Another high point comes after Billy's struggled with a dance audition at the Royal Ballet. He doesn't fit in and knows he's blown it. When he's cross-examined on how he feels when he dances, he explains the impossibility of accurately describing his emotions in "Electricity." The exceptional five minute number culminates with a dance solo from Hetherington that stopped the show.
For those that might suspect this is a show purely for ballet aficionados, fear not. This is ballet, tap, hip hop, jazz, acrobatics and more. It's Broadway -- vibrant, mesmerizing, beautifully conceived, bawdy in part, heartbreaking in part, and capable of eliciting goose bumps.
Special note goes to Paul Arditti's sound design, which is impeccable. On a side note, the use of plain wooden chairs throughout the show is quite clever, as is the effective use of shadows.
The night is capped with a finale / curtain call that puts all the actors into dance garb -- including the men in overalls and tutus -- for one, final, rousing tap number that once again, pulls the audience to its feet.
In the end, this is simply the story of a boy who was given a chance. And who can't identify with that?
"Billy Elliot " is at The Boston Opera House through August 19. For information, call 1-800-982-2787.
-- Production Photos: Kyle Froman
-- OnStage Boston