A Review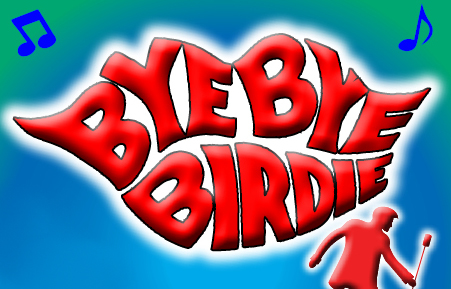 Spreadin' Sunshine All Over The Place
By R. J. Donovan
Reagle Music Theater gets into full summer swing with the light and breezy musical "Bye, Bye Birdie." A call-back to sweeter, simpler times, "Birdie" takes a look at what happens when a swivel-hipped 60s rock and roll star decides to plant a farewell kiss on one lucky young gal as a promotional stunt prior to his being inducted into the army.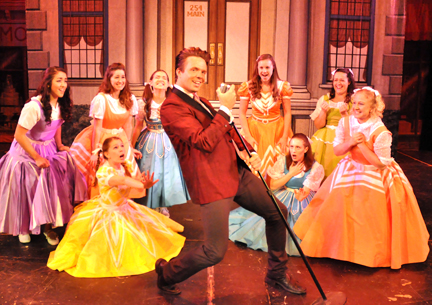 Conrad Birdie is one hot dude, singing his heart out and sending the girls into a tizzy with every frenzied lip-curl. Birdie's manager and songwriter, Albert Peterson, is beside himself when the star receives his draft notice. The meal ticket, as it were, is about to disappear.
So Albert figures, why not write a song, have Birdie deliver it on national television while kissing the chosen fan -- symbolically representing girls everywhere, of course -- and cash in on the phenomenal projected record sales.
Not as easy as it sounds. Albert has a loving secretary named Rosie Alvarez (Carman Napier, below) who wants him to give up show business and teach English, a mother who controls him, and a singing star who's a challenge to control.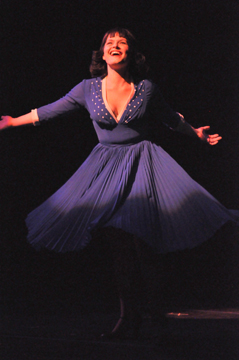 Even so, the whole troupe heads off to Sweet Apple, Ohio, to connect with the lucky kissee, Kim MacAfee. Kim's family, in turn, proves to be a handful as they host the gang from New York. Complicating things is Kim's boyfriend, Hugo Peabody, who's just "pinned" Kim and finds the national kiss publicity stunt -- to be executed on "The Ed Sullivan Show," no less -- highly objectionable.
"Bye, Bye Birdie" first came to life on Broadway in 1960, picking up a Tony Award as Best Musical. It made a star of Dick Van Dyke as Albert and co-starred the always-phenomenal Chita Rivera as Rosie.
The whole thing was made into a movie three years later. Van Dyke returned as Albert, Janet Leigh was Rose and the story shifted a bit to beef up the role of Kim MacAfee, played by Ann-Margret. Ed Sullivan also appeared in the film. It's the movie version that most people know. As is often the case with film adaptations, liberties were taken with some of the plot points, and several of the songs were removed.
The score by Charles Strouse and Lee Adams (with a book by Michael Stewart) contains some great numbers, including "How Lovely To Be A Woman," "One Last Kiss," Kids," and the most well-known number, "A Lot Of Livin' To Do." As well, the title song written for the film is interpolated briefly into the show's overture.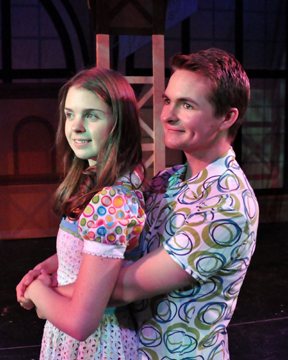 At Reagle, the cast is a fun group, lead by Jacob Sherburne as an exasperated Albert. As Rosie, Carman Napier has a wonderful voice in addition to being easy on the eyes. Ryan Overberg (top photo), who recently scored in "Xanadu" at SpeakEasy Stage is Conrad Birdie. At the performance I attended, he hadn't fully wrapped himself around the character yet. Hopefully that was remedied as the run progressed.
The two young gems of the company are Gillian Gordon as Kim and Matt Phillipps as Hugo (at left). Gordon was seen last year as Liesel in "The Sound of Music" and she's really coming into her own. She has a wonderful way with playing the oh-so-serious teenager who sees herself as an adult until she needs her Mommy. And the expressive Phillipps is wonderfully neurotic as the dismissed and depressed boyfriend who's trying to hang on to his honey. Both of these performers are actors-to-watch.
Also very good is Naree Katudat as the chatterbox Ursula, plus David Carney, Zach Austin Green, Christopher King and James Forbes Sheehan performing as the Bar Quartet in Act Two.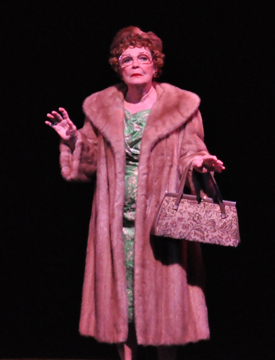 The frosting on the cake is Anita Gillette (a left) as Mae Peterson, Albert's manipulative, mink-wrapped mother who takes the subway instead of a cab, only to throw a withering guilt trip on her son for her transportation choices. ("The subway's good enough for a mother...")
Gillette, a Tony nominee and veteran of more wonderful Broadway shows than you can shake a stick at, is such a pro that she takes what's on the page and shapes it into such a delightful treat that you automatically smile every time she makes her plodding entrance -- and this is before she even opens her mouth. She has the enviable ability of being able to mine every bit of humor out of every single word and glance.
This is a show with numbers big and small, with highlights including the colorful and kicky "Telephone Hour" populated solely by the chorus, to "Put On A Happy Face," the sweet "One Boy," "A Lot of Living to Do" and "Honestly Sincere."
The company is directed and cleverly choreographed by Larry Sousa, with costuming (in ice cream shop colors) thanks to Gregg Barnes and Goodspeed Musicals.
On an interesting side note, Reagle was selected this summer to participate in the Free Fun Fridays program by the Highland Street Foundation. The program invites residents and tourists alike to visit designated cultural attractions every Friday through the end of August with Highland Street picking up the tab. Participants this summer include groups ranging from The Isabella Stewart Gardner Museum and the Stone Zoo to Plimoth Plantation, the JFK Library & Museum, Battleship Cove, Hancock Shaker Village, Fuller Craft Museum and the ICA, among others.
As a result, a special Friday matinee was added to the schedule at Reagle with all tickets being free. They wound up with a full house. Folks simply had to show up the day of the performance and request up to 4 tickets. For many of the audience members, it turned out to be their first time attending a show at Reagle. Based on their reaction, many of them can be expected to return to enjoy future performances on their own.
Speaking of which, next up at Reagle is "My Fair Lady" starring Rick Hilsabeck and Reagle favorite Sarah Pfisterer.
"Bye Bye Birdie" from Reagle Music Theatre is at Robinson Theatre through July 22. For information, call 781-891-5600.
-- Production Photos: Herb Philpott
-- OnStage Boston