---

"My Fair Lady"
To Star Rick Hilsabeck and Sarah Pfisterer
At Reagle Music Theatre
The final summer production at Reagle Music Theatre of Greater Boston will be "My Fair Lady," the beloved Lerner and Loewe classic about an arrogant phonetics professor who transforms a spirited Cockney flower girl into an elegant, proper-speaking English lady. Performances run August 10-19 at Robinson Theatre, 617 Lexington Street in Waltham.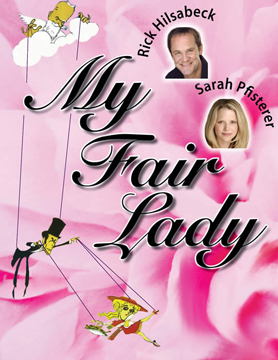 Broadway's Rick Hilsabeck ("Chitty Chitty Bang Bang," "Billy Elliot," and the first national tour of "Phantom of the Opera") stars as the curmudgeonly professor Henry Higgins. His real-life co-star Sarah Pfisterer ("Phantom of the Opera," Show Boat," "Children and Art") is his reluctant protégé Eliza Doolittle.
The winner of six Tony Awards including Best Musical, "My Fair Lady" is based on George Bernard Shaw's play and Gabriel Pascal's motion picture "Pygmalion." The original 1956 New York production, starring Rex Harrison and Julie Andrews, ran for 2717 performances and became the longest-running Broadway musical of its time.
With a seamless integration of Alan Jay Lerner's book and Lerner and Loewe's timeless score, "My Fair Lady" is often regarded as "the perfect musical." Songs include "Wouldn't It Be Loverly?" "With a Little Bit of Luck," "The Rain in Spain," "I Could Have Danced All Night," "On the Street Where You Live," "Get Me to the Church on Time," and "I've Grown Accustomed to Her Face."
Co-starring with Reagle Music Theatre's favorite husband-and-wife team are R. Michael Wresinski of Framingham as Colonel Pickering; Jerry Walker of Waltham as Alfred P. Doolittle; Robert St. Laurence of Boston as Freddy Eynsford-Hill; Donna Sorbello of Scituate as Mrs. Higgins; Beth Gotha of Andover as Mrs. Pierce; and Rick Sherburne of Burlington as Zoltan Karpathy.
Ovation Award-winning Broadway veteran Larry Sousa directs the production while IRNE Award-winning Susan Chebookjian will recreate Hanya Holm's original Tony Award-nominated choreography. Costume designer Joe Michenzie is adapting Cecil Beaton's original Tony Award-winning costumes. Jeffrey P. Leonard conducts the 26-piece orchestra. IRNE Award winner Dan Rodriguez is music director.
The cast of 46 includes singers Chris Brindley, David Carney, Serge Clivio, Katy Early, Tony Feole, Gillian Gordon, Mary Healy, Sierra Kagen, Christopher King, Joelle Kross, Sarah Landry, Regina Lucas, Harry McEnerny, Kathryn McKellar, Peter Mill, James Forbes Sheehan, Jacob Sherburne, Andrew Tighe, and Gary Vincent. Dancers include Jessica Azenberg, Sarah Beling, Rachel Bertone, Courtney Blanch, Darren Bunch, Lisa Dempsey, Jared Green, Christopher Hird, Alex Nemiroski, Nahshon Rosenfeld, Maria La Rossa, Korinne Robertson, Daniel Forest Sullivan, Matthew Michael Uriniak, and Julia Wood.
For information and tickets, stop by the box office, call 781-891-5600 or visit www.reaglemusictheatre.org.
Seniors 60 and older save $3 on any full-priced ticket. Youth tickets for students aged 5-18 are $20 for any seat at any show. Student rush seats at 50% off are available one hour before curtain with a valid college ID.