---

Rock 'N' Roller Longs For One Last Kiss
In "Bye Bye Birdie" At Reagle
July 13 - 22
Tony Nominee Anita Gillette As Mae Peterson
Ryan Overberg As Conrad Birdie
The summer season at Reagle Music Theatre of Greater Boston continues with "Bye Bye Birdie," the Tony Award-winning 1960s rock 'n' roll-inspired musical parody of what happens to a small Midwestern community when an Elvis-like singing sensation swings through town looking for one last kiss before entering the Army. Directed and choreographed by Ovation Award-winning Broadway veteran Larry Sousa, the production plays July 13-22 at Robinson Theatre, 617 Lexington Street in Waltham.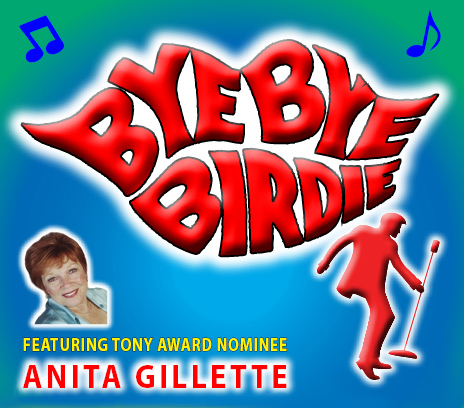 Tony Award nominee Anita Gillette will star as Mae Peterson, the comical mother of all martyred mothers who nearly loves her son Albert to distraction. With more than 75 stage and screen credits to her name, Gillette is probably best known for playing quirky mothers – most notably on television opposite Tina Fey ("30 Rock"), Marg Helgenberger ("CSI") and John Goodman ("Normal, Ohio"); and in movies opposite Jennifer Aniston ("She's the One"), Bill Murray ("Larger than Life"), Mary Louise Parker ("Boys on the Side") and Jack Black ("Bob Roberts"). Audiences may also remember her for her funny and tender performance in the Oscar-winning film "Moonstruck" in which she played Mona, the hapless mistress to Cosmo (Vincent Gardenia).
In her early career on Broadway, Gillette moved quickly from the ensemble to a replacement to a featured actress to the lead, making her debut in the chorus of "Gypsy" in 1959 only to take over the roles of Thelma and then June during the show's two-year run. She later starred in "Carnival," "Guys and Dolls," Woody Allen's "Don't Drink the Water," "Cabaret," and Neil Simon's "Chapter Two," for which she earned a Tony nomination as Best Actress in a Play. Most recently Gillette has starred Off-Broadway in "The Big Meal" at Playwrights Horizons and in Nora and Delia Ephron's "Love, Loss, and What I Wore" at the Westside Theater. She also recently made her one-woman cabaret debut in "Anita Gillette: After All" at Birdland to rave reviews.
Joining Gillette in "Bye Bye Birdie" as the swoon-inducing rock 'n' roll idol Conrad Birdie is handsome rising star Ryan Overberg. A professional actor who has moved from New York to Boston to continue his training at the Boston Conservatory, Overberg most recently turned heads as the muscle-bound (and muscle-brained) Sonny in the SpeakEasy Stage production of "Xanadu." Other credits include musical heartthrob Link Larkin in the national tour of "Hairspray," Roger in "Rent," "The Who's Tommy," "The Big Gay Musical," and "Le Cabaret Grimm" at the New York Musical Theatre Festival (NYMF).
Additional cast members include Jacob Sherburne as Albert Peterson, Carman Napier as Rosie Alvarez, Gillian Gordon as Kim McAfee, Brad Walters as Mr. Harry McAfee, Linda Lodi as Mrs. Doris McAfee, Josh Sussman as Randolph McAfee, Naree Ketudat as Ursula Merkle, Matt Phillipps as Hugo Peabody, and Shonna McEachern as Gloria Rasputin.
Adult ensemble members include Kelly Naugler, Sierra Kagen, Cathy Nardone, Kristina Riegle, Kristen Almechatt, David Carney, Tony Feole, Christopher King, Tom Richardson, Gary Vincent, James Sheehan, Peter Mill, and Zach Green.
Teen ensemble members include Courtney Blanch, Emily Grace Smith, Hayley Richardson, Meredith Langton, Kim Rose, Briana Fallon, Emily Tiberio, Laura Girard, Alex Nemiroski, Darren Bunch, Connor Fallon, Nahshon Rosenfeld, Josh Zammuto and Jared Green.
"Bye Bye Birdie" opened on Broadway in 1960 and ran for 607 performances. It won four Tony Awards, including Best Musical (Michael Stewart, Charles Strouse and Lee Adams), Best Actor (Dick Van Dyke), and Best Direction and Choreography (Gower Champion). The original production also starred Chita Rivera, Tony nominated for her performance as Rose, and Kay Medford as Mae Peterson. Classic musical numbers include "The Telephone Hour," "Honestly Sincere," "Put on a Happy Face," "A Lot of Livin' to Do," "Kids," "Baby, Talk to Me," and "Rosie."
A popular film version followed in 1963 starring Ann-Margret, Dick Van Dyke, Janet Leigh, Paul Lynde and Maureen Stapleton. For the film version, a new title song was written. A television version came along in 1995 starring Jason Alexander, Vanessa Williams, Chynna Phillips and Tyne Daly. The 2009 Broadway revival starred John Stamos and Gina Gershon.
In addition to the regular run of the production at Reagle, a special Free Fun Friday performance sponsored by the Highland Street Foundation will be held on July 13 at 2 p.m. Tickets to this performance are not on sale to the general public. Seats have been made available on a first come first serve basis on the day of the show to families who might otherwise not be able to attend live theater.
For tickets and information, stop by the box office, call 781-891-5600 or visit www.reaglemusictheatre.org.