Coward's "Private Lives"
Completes The Season At The Huntington
The Huntington Theatre Company will complete its 30th Anniversary Season with the perfect romp for springtime: the sparkling comedy "Private Lives" by Lifetime Tony Award-winning playwright Noël Coward (below). Performance dates are May 25 – June 24.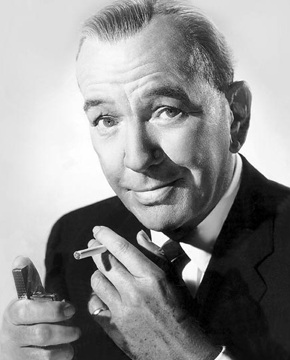 Tony Award-nominated Maria Aitken, director of the Huntington's acclaimed productions of "Educating Rita" and the Olivier and Tony Award-winning "Alfred Hitchcock's The 39 Steps" and director of the upcoming "Betrayal" (November 2012) will direct the sophisticated comedy.

In the play, newlyweds Elyot and Sibyl are honeymooning at a hotel in northern France where they unexpectedly encounter Elyot's ex-wife Amanda and her new husband Victor on the adjacent balcony celebrating their recent nuptials. The romance between Elyot and Amanda is quickly revived, and the two desert their new spouses to flee to Amanda's Paris flat. There, the stormy rivalry that first divided them rekindles in time for Sibyl and Victor to rediscover the pair in the throes of a passionate fight.
One of the most shining examples of Coward's trademark wit, The New York Times calls this stylish and savvy play, "one of the funniest comedies of the 20th century."
Huntington Artistic Director Peter DuBois commented, "Noël Coward's signature wit and keen eye for human behavior make his plays vibrate emotionally. It's thrilling to have Maria Aitken, one of the world's greatest interpreters of Coward, here at the Huntington to bring his work to life."
Aitken, who has appeared in more West End productions of Coward plays than any other actress, played the role of Amanda in the 1980 West End revival of "Private Lives" opposite Michael Jayson. She was the youngest actress to play the part since Coward's close friend and frequent collaborator Gertrude Lawrence, for whom the role was written and who played opposite the playwright in the original 1930 production.
According to Aitken, "'Private Lives' is a pretty perfect play. It is about love and pain and obsession and is very visceral. The fact that it is wrapped in elegance and wit makes it all the stronger. My admiration for Noël Coward increases with the years as I see what a stayer he is and how successive generations discover him and adore playing him. I've been involved with his work for, I think, 36 years, and it's with a sense of such promise that I approach this particular production in this, my favorite American theatre, with my extraordinary creative team and an incredible bunch of actors."
The company at the Huntington includes: Bianca Amato, James Waterston, Autumn Hurlbert, Jeremy Webb and Paula Plum.
Noël Coward was known for his wit and what Time magazine called "a sense of personal style, a combination of cheek and chic, posh and poise." He was born in a suburb of London and made his professional stage debut at eleven. He wrote and published more than 50 plays including "Fallen Angels," "The Vortex," "Hay Fever," "Easy Virtue," "Private Lives," "Design For Living," "Present Laughter," "Blithe Spirit," and "Waiting in the Wings."
Coward is also the author of more than 300 songs including "Mad About the Boy," "Mad Dogs and Englishmen" and "London Pride," more than a dozen musical theatre pieces, poetry, short stories, the novel Pomp and Circumstance, and a three-volume autobiography. His stage and film acting and directing credits spanned six decades and included many of his own works. He was knighted in 1969, elected a fellow of the Royal Society of Literature, and received a Lifetime Tony Award in 1970.
Related Events

Post-Show Audience Conversations
These ongoing events are led by members of the Huntington staff and happen after most Tuesday through Friday, Saturday matinee, and Sunday matinee performances. Free with a ticket to the performance.

35 Below Wrap Party
Friday, June 1, following the 8 p.m. performance
Enjoy a post-show wrap party with drinks, live music and exclusive backstage access. $25 ticket includes admission to both performance and party. Learn more at huntingtontheatre.org/35Below.

Student Matinee Performance
Thursday, June 7, at 10 a.m.
For students in grades 6-12. To reserve tickets, call 617-273-1558.
For tickets and information, stop by the box office at 264 Huntington Avenue in Boston, call 617-266-0800 or visit huntingtontheatre.org.