---

World Premiere
Of "Car Talk: The Musical"
At Central Square Theater
Beginning June 14, Underground Railway Theater and Suffolk University will present the World Premiere of "Car Talk: The Musical" with book, lyrics and direction by Wesley Savick, and original music by Michael Wartofsky. The production runs from June 14 - September 2 at Central Square Theatre, 450 Massachusetts Avenue in Cambridge.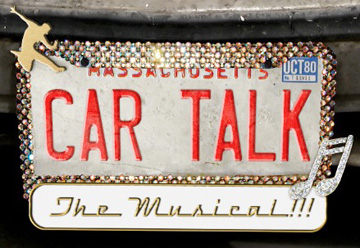 The new musical comedy is inspired by the legendary National Public Radio show, "Car Talk." The hero -- the overweight, always-late invertebrate Rusty Fenders -- has racked up as many miles as his '93 KIA. Attempting to salvage happiness from the junkyard of his life, he collides with his ruthless boss, an unrequited office romance, and his red-hot fantasy car. Can the Wizard of Cahs put the brakes on Rusty's musical wipe-out?
As the creators note, "Car Talk: The Musical" is low-brow, high-octane fun. Plus, Car and Theater Magazine named this show the "best automotive musical of the twenty-first century, so far."
"Car Talk: The Musical" features Scott H. Severance as Rusty Fenders, Leigh Barrett as his unrequited office romance, and Maureen Keiller as his ruthless boss. The ensemble draws on the singing and dancing talents of Tiffany Chen, Diego Klock-Perez, Edward Tolve, Jonathan Luke Stevens, Christian Denzel Bufford, Elyse Collier, and Sarah Crane. Additionally, "Car Talk: The Musical" features the voice-overs of Tom and Ray Magliozzi otherwise known as Click and Clack, the Tappet Brothers.
Wesley Savick has directed or acted in more than 80 professional productions, almost all new works, including world premieres by Christopher Durang, Shel Silverstein, Derek Walcott, Howard Zinn, and Robert Brustein. He has also written, co-written or adapted 20 produced plays. Mr. Savick is a tenured Professor at Suffolk University.
Michael Wartofsky has written music and lyrics for "The Man In My Head" (New York Musical Theater Festival 2006 starring Darius de Haas) and "Running Back" with Marcus Gardley. He is also composer of "Cupcake," currently running at Boston's Club Café and featuring Karen MacDonald. In March 2011, the Suffolk University Theatre Department launched the first student production of "Car Talk: the Musical" to sold out audiences at the new Modern Theatre.
For tickets or more information, stop by the box office, call 866-811-4111 or visit CentralSquareTheater.org.