---

New Dark Comedy, "Bovinus Rex"
At Guerilla Opera
Guerilla Opera will close its season with a new, dark comedy, "Bovinus Rex: A Chamber Opera In Seven Scenes," featuring the debuts of Kimberly Soby (soprano), Amy Advocat (bass-clarinet) and Ethan Wood (violin), and the return of artists Aliana de la Guardia (soprano), Patrick Massey (tenor), Brian Church (baritone), Kent O'Doherty (saxophone) and Mike Williams (percussion). Music are libretto are by Rudolf Rojahn. The production, sung in English and directed by Copeland Woodruff, will run May 24 - 27 at The Zack Box at The Boston Conservatory, 8 The Fenway in Boston, MA.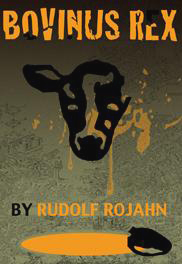 Rojahn and Woodruff are the powerhouse duo that brought the acclaimed 2010 production of "Heart of a Dog" to audiences in Boston and Memphis. They've teamed up again to present this outrageous black comedy exploring the nature of identity and the calculus of quantifiable suffering.

In a contemporary spin on an ancient tale, an animal farmer in rural Ohio invents a machine to slaughter his entire herd in order to pay off his crippling debt. When his fanatic animal rights activist-daughter decides to infiltrate her father's farm, things tragically spin out of control.

Rojahn commented, "There is no way to live in our society with completely clean hands because the use of animals as commodities is inextricably interwoven with our societies and historical success as a species. That creates a paradigm in which everyone must decide for themselves what an acceptable amount of suffering is, a decision dictated not only by ethics but by social and financial factors as well. A large impetus for writing this story was to investigate both the beauty and danger of fanatical belief and the moral righteousness of youth; a study of how our identities are defined by the issues and beliefs we hold dear."
Rudolf Rojahn holds a M.M. in composition from The Boston Conservatory and was awarded the Roger Sessions Award for academic and creative excellence. He is a founding artist and co-artistic director of Guerilla Opera, for which he has written three operas with original librettos. Currently he is collaborating on a new opera with the El Paso Opera. He teaches at the New England Conservatory's School for Continuing and Preparatory Education and at The Boston Conservatory.

Copeland Woodruff is the co-director of opera studies, stage director, and producer for the University of Memphis Opera program. In his career, Woodruff has directed more than 85 productions of operas, plays, musicals and scenes programs and has been on the directing staffs of New York City Opera, Santa Fe Opera, Chautauqua Opera, Michigan Opera Theatre, Atlantic Coast Opera Festival, and Opera North.
Related Events
May 24: Opening Night Reception
Join Guerilla Opera at a reception taking place directly on the set of "Bovinus Rex" immediately following the World Premiere performance at The Zack Box. Free with purchase of admission.

May 25 - 26: Talk-Backs
Join the composer, director, creative team, and Guerilla Opera for a talk-back immediately following the performances. Free.

May 27
Join Guerilla Opera and the "Bovinus Rex" creative team for a special VIP Reception on closing night at Sheraton Boston's Side Bar Lounge immediately following the final performance. RSVP with a donation of $60.00 per person online at bovinusrexvip. RSVP required.
For tickets and information, call the box office at 617-912-9222 or visit bostonconservatory.