A Review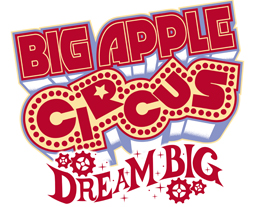 The One Ring Wonder Is Back!
By R. J. Donovan
Like the daffodils in Spring, The Big Apple Circus has returned to Boston. As always, the happy troupe has brought a whole new show to their gleaming, white Big Top on City Hall Plaza.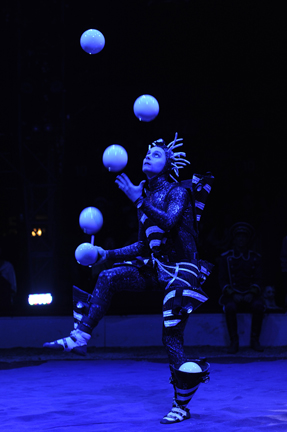 Under the direction of Guillaume Dufresnoy, this year's show is titled "Dream Big." It also marks the Farewell Tour of Grandma (Barry Lubin), Big Apple's lovable, laughable, dotty old girl who silently tickles the collective funny bone.
There's no Ringmaster this year. Instead, the proceedings are hosted by Jenna Robinson, an opulent blur of black and white topped with piles of swirling red tendrils. She sings, she intros the acts and she serves as a motherly presence, accompanied by her longtime "chauffeur," Andrey (Andrey Mantchev, who's been with Big Apple since he was a little boy, doing everything from acrobatics to strength balancing.)
As always, the evening is a showcase of outstanding talents, from aerial rope artist Anna Volodko to juggler extraordinare Dmitry Chernov (at left above), trapeze artistry of the Flying Cortes, the tumbling Shandong Acrobats from China, and Jenny Vidbel who puts her Arabian stallions through their paces in the first act, only to return in the second with a winning corral of trained dogs, hogs, a capybara (think ugly South American groundhog-rodent sort of thing) and an African porcupine ( . . . who knew?)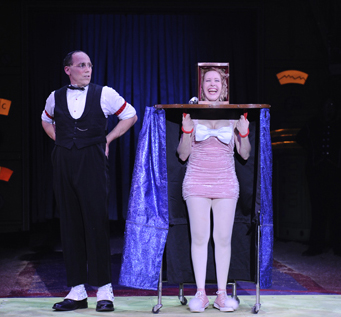 The added comic relief this year comes from Scott Nelson and Muriel Brugman, a dynamic duo if there ever was one. In their first spot, Nelson is a hapless magician and Brugman is his screeching mannequin assistant. They were hilarious as one thing after another threatened to ruin their act -- only to amaze in the end. Initially, it appeared that would be their only slot in the show. However, they returned again and again, each time topping themselves with silliness and skill.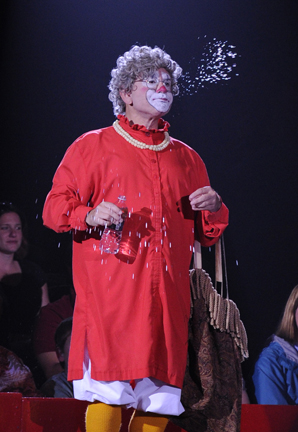 Grandma has always been a crowd favorite, and this year is no exception. In a favorite spot, she plucks an unsuspecting audience member from the crowd to lip-sync the Nat King Cole-Natalie Cole duet "Unforgettable." In another, she grabs a guy from ringside to teach him the proper techniques for the classic spit take. At the performance I attended, WBZ-TV's Ted Wayman turned out to be the victim of Grandma's wandering eye. He proved to be a great sport as the H2O went flying.
This year's whimsical look has been created by the director-designer team of Andre Barbe and Renaud Doucet. Some of xx's costuming have a Cirque du Soleil flair this year. And the excellent seven man Big Apple Band is once again under the expert leadership of Rob Slowik high over the ring.
There's a drifting plot line that involves a little girl taking a tour backstage (and then getting lost) that didn't appear to be fully developed enough. But no matter, the show's the thing, and at Big Apple it's always a dazzling and thoroughly entertaining time.
The Big Apple Circus is at Boston's City Hall Plaza through May 13. For information, call 800-922-3772.
-- Production Photos: Bertrand Guay/ Big Apple Circus
-- OnStage Boston