"Much Ado. . .With A Twist"
From Bad Habit Productions
Bad Habit Productions is set to present "William Shakespeare's Much Ado About Nothing... with a Twist!," adapted by Daniel Morris, in Deane Hall at the Calderwood Pavilion at the Boston Center for the Arts, located at 527 Tremont Street in Boston's South End. Artistic Director Daniel Morris will direct the production, set to run from April 28 - May 13.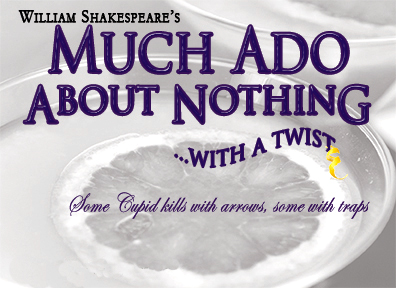 Considered to be one of Shakespeare's best works, "Much Ado About Nothing" casts the serious themes of love, fear of commitment, and jealousy in a sexy comedy about two very different courtships.
The "Twist" in this faithful adaptation is that all the characters will be portrayed by five actors, creating an evening of quick changes, gender-bending and unexpected surprises.
The cast features Sasha Castroverde, Sierra Kagen, Adam Kassim, David Lutheran and Evan Sanderson.
For tickets, call 617-933-8600 or visit www.bostontheatrescene.com.