"Little Shop Of Horrors"
At New Rep, April 29 - May 20
New Repertory Theatre will present the Off-Broadway musical "Little Shop of Horrors," with book and lyrics by Howard Ashman and music by Alan Menken, in the Charles Mosesian Theatre at the Arsenal Center for the Arts, from April 29 - May 20. The Arsenal Center is located at 321 Arsenal Street in Watertown.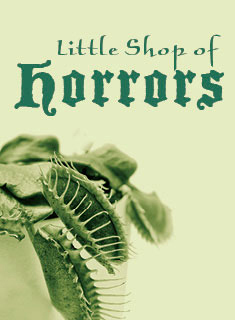 Directed and choreographed by Russell Garrett, with musical direction by Todd C. Gordon, the cast for "Little Shop of Horrors" features Paul D. Farwell (as Mr. Mushnik), Susan Molloy (as Audrey), Bill Mootos (as the Dentist), Blake Pfiel (as Seymour) and Timothy John Smith (as the voice of Audrey II).
In this award-winning musical combining the melodious styles of 1960's rock and roll, doo-wop, and early Motown, a hapless flower shop worker, Seymour, comes upon a mysterious plant. As his discovery begins to flourish, so does the flower shop's business. Now in the spotlight, Seymour quickly develops the confidence needed to successfully court his co-worker Audrey, and together they begin to pursue their dreams. Sadly, Seymour soon finds he's just a pawn in the paranormal plant's diabolical scheme.
"Little Shop of Horrors" first made its mark as a low-budget black and white 1960 comedy film directed by Roger Corman. (A young Jack Nicholson played a small role.) The story was turned into an Off-Broadway musical in 1982, picking up multiple awards including Drama Desk and New York Drama Critics Circle Awards as Best Musical. When the production closed five years later, it had racked up 2209 performances at the Orpheum Theatre. A film version of the musical followed in 1986. The show's beloved score includes songs such as "Skid Row," "Somewhere That's Green," and "Suddenly Seymour."
Russell Garrett commented, "I've loved 'Little Shop' since seeing the original Off-Broadway cast almost thirty years ago. Our team (some familiar faces/voices and some new ones) will breathe new life into the play, honoring what has always made it great and adding special touches."
Managing Director, Harriet Sheets added, "We gladly welcome Russell to New Rep. We're proud to have his expertise with musicals on this fun title."
For tickets and information, stop by the box office, call 617-923-8487 or visit www.newrep.org. Free parking is available immediately adjacent to the theater.