BU's Boston Playwrights' Theatre
Joins With School of Theatre and Department of English
To Present New MFA in Playwriting
Boston Playwrights' Theatre and the School of Theatre at Boston University have announced a new Master of Fine Arts Degree in Playwriting. This collaboration -- the only one of its kind in universities and colleges across the nation -- combines the best traditions of the scholarly and professional practices of both programs.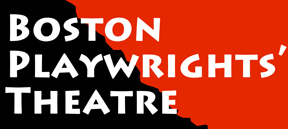 Founded in 1981 by Nobel Laureate Derek Walcott, BU's Boston Playwrights' Theatre will collaborate with the innovative "new conservatory" at the celebrated School of Theatre, focusing on cooperation, a rigorous curriculum and the artistic growth of the "playwright as thinker and as collaborator."
Housed in the English Department of the Graduate School of Arts and Sciences, but in cooperation with the College of Fine Arts, the MFA program will incorporate its playwrights into a vibrant community of artists and ready them for lives in both the professional theatre and in academia.
This three-year MFA will offer a regimen of literature and dramaturgy classes but add the gift of artistic partnerships with working actors, directors, designers and other theatre professionals plus fully rendered productions.
Kate Snodgrass, Artistic Director of Boston Playwrights' Theatre, commented, "I am excited to offer full productions to all of our writers for the first time. The School of Theatre is the best in the nation in terms of collaboration and innovation. Not only will our writers learn about their work, they'll be prepared for future collaborations. It's a win-win proposition."
Further, alumni will have the opportunity to network their plays with the members of the Boston University Professional Theatre Initiative. Current members include the Boston Center for American Performance, Boston Playwrights' Theatre, Olney Theatre Center, the Potomac Theatre Project, Huntington Theatre Company, Actors' Shakespeare Project, Vineyard Playhouse, New Repertory Theatre and Wellfleet Harbor Actors Theatre, among others.
"While we have enjoyed a strong relationship with Boston Playwrights' Theatre over the years, this new collaborative degree program actualizes our mission in a new and fundamental way," explained Jim Petosa, Director of Boston University's School of Theatre. "Playwrights at the graduate level will now be integrated members of the artistic home that is the BU School of Theatre. It will benefit them and us in our united mission of exploring new holistic approaches that nurture the generation of new plays born in collaboration with theater-makers of all kinds."
Gene Jarrett, Professor and Chair of the Department of English, added, "The Department of English welcomes the MFA in Playwriting as part of a broad and ambitious effort to make BU a leader in the study of dramaturgy and of drama across all periods of literary history."
For more information about this new collaborative MFA program, visit bostonplaywrights.org or bu.edu/cfa/Theatre/ or bu.edu/English.