Merrimack Rep Presents
"Mrs. Whitney"
March 15 - April 8
"Mrs. Whitney," written by John Kolvenbach and directed by Kyle Fabel, follows the comedic journey of middle-aged divorcée Margaret Whitney as she attempts to reconnect with her long-estranged ex-husband. Merrimack Rep presents the comedy March 15 -April 15.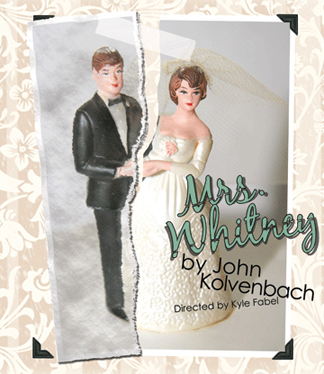 The company features Deirdre Madigan as Margaret Whitney with Joel Colodner, Rebecca Harris, Jay Ben Markson and Dennis Parlato.

This marks the third John Kolvenbach play for director Kyle Fabel, who commented, "John's plays are all rich, both with irresistible humor and with deep, complex, compassionate insight into the human soul. This play has plenty of the former, but perhaps more of the latter than any of his others. Also, having John more involved in the process this time around has already proven wonderfully rewarding."

Kolvenbach explained, "The idea for this play comes from a radio station which played American standards in the 70's, WNEW in New York, from the DJ's William B. Williams and Jonathan Schwartz, and from the mid-career albums of Frank Sinatra ('Wee Small Hours') and Bob Dylan ('Blood on the Tracks' and 'Desire'). The play is about romance and loneliness. It's about the notion that love is a cure for the fundamental human difficulty: that we are born and remain alone. It's about how that romantic notion both sustains and betrays us. It's a comedy. About heartbreak."

John Kolvenbach is the author of "Goldfish," "Love Song," "on an average day," "Gizmo Love," "Fabuloso" and "Mrs. Whitney." His plays have been performed in Zurich, Melbourne, Sydney, Tel Aviv, Buenos Aires and Lisbon among many others. His screenplay "Clear Winter Noon" was selected for the Black List in 2008, and he is currently writing a screenplay for MGM.
Special Events for "Mrs. Whitney"

Pay What You Can Night
March 15 at 7:30 p.m.
Patrons may purchase tickets in cash at the Box Office between 4:30 - 7:30 p.m. and name their ticket price. Following the performance, there will be a Director's Dialogue, where the director and designers field audience questions and describe how the play was staged.
Lowell Night
March 17 at 8 p.m.
Lowell residents may purchase tickets for $10 at the box office from 5 - 8 p.m. Proper ID is required.
Opening Night
March 18 at 7 p.m.
Audience members are invited to join Merrimack Rep's staff and cast after the show in raising a glass of champagne to celebrate the opening.
Cookie Matinee
March 21 at 2 p.m.
Patrons are invited to enjoy complimentary cookies and coffee in the lobby before the show, courtesy of Brew'd Awakening Coffeehaus.
Post Show Forums
March 22, March 29 & April 5 at 7:30 p.m.
Audiences are invited to stay after the performance to learn more and chat with the actors. Sponsored by Yellowbook.
For tickets and information, stop by the box office at 50 E. Merrimack Street in Lowell, call 978-654-4678 or visit MerrimackRep.org.