---

Theater Legend Tommy Tune
To Receive Lifetime Achievement Honors
At 30th Annual Elliot Norton Awards
The Boston Theater Critics Association has announced that legendary song and dance man Tommy Tune will be the recipient of The 30th Anniversary Elliot Norton Lifetime Achievement Award. The Elliot Norton Awards, which recognize excellence in Greater Boston Theater, will be presented on Monday, May 21, at 7 p.m. at the Paramount Center, 559 Washington Street, Boston. (Nominations for this year's award categories will be announced soon.)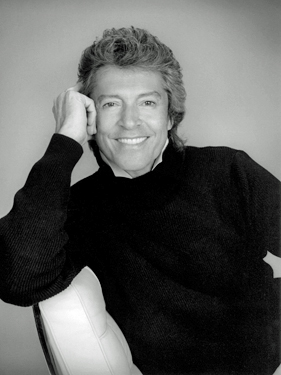 Known as one of the most prolific director/choreographer/performers of the twentieth century, Tommy Tune has enchanted audiences for more than 50 years with his charisma, vision and innovation. Joyce Kulhawik, President of the BTCA, commented, "Not only are we delighted to honor this iconic nine-time Tony Award-winning performer (yes, nine), but Tommy will honor the entire theater community by performing onstage that night as part of our 30th anniversary celebration!"
A native Texan, Tune began his career as a dancer in the Broadway shows "Baker Street," "A Joyful Noise" and "How Now Dow Jones." He would soon step out of the chorus and into a principal role in the Broadway musical "Seesaw," which won him his first Tony Award for Best Featured Actor in a Musical. His first Broadway directing and choreography credits were for the original production of "The Best Little Whorehouse in Texas."
Tune has been honored with nine Tony Awards celebrating him as a performer, choreographer and director (Best Actor in a Musical for "My One and Only," Best Featured Actor in a Musical for "Seesaw," Best Choreography for "A Day in Hollywood/A Night in the Ukraine," "My One and Only," "Grand Hotel" and "The Will Rogers Follies," and Best Direction of a Musical for "Nine," "Grand Hotel" and "The Will Rogers Follies."
In addition, Tune has been awarded eight Drama Desk Awards, three Astaire Awards and the Society of Directors and Choreographers' George Abbott Award for Lifetime Achievement.
He is also is the recipient of The National Medal of Arts, the highest honor for artistic achievement given by the President of the United States, and he has been honored with his own star on the legendary Hollywood Walk of Fame.
In 2009, he was designated as a Living Landmark by the New York Landmarks Conservancy. This marks his 50th year in show business with his latest work, "Steps In Time, A Broadway Biography in Song and Dance." In his spare time, he enjoys painting in his Manhattan Tower studio.
The Elliot Norton Awards are named in honor of the distinguished Boston theater critic Elliot Norton, who for many years served on the selection committee and who remained an engaged supporter of the drama, both locally and nationally, until his death in 2003 at the age of 100. For 48 years, Mr. Norton was a drama critic for Boston newspapers; concurrently, from 1958 until his retirement in 1982, he was moderator of "Elliot Norton Reviews" on WGBH television. The Norton Medal was first bestowed in 1983. Since then, the awards have grown to include, in addition to the Prize for Sustained Excellence, almost two dozen awards presented annually to outstanding productions, performers, directors, and designers.
The Boston Theater Critics Association, which presents the Elliot Norton Awards, is proud to have been part of the remarkable growth, over the past 30 years, of exemplary theater in Boston. This year's selection committee comprises Don Aucoin, Jared Bowen, Terry Byrne, Carolyn Clay, Nick Dussault, Iris Fanger, Joyce Kulhawik, Sandy MacDonald, Robert Nesti, Jenna Scherer, and Ed Siegel.
Tickets for the event are available by calling 617-824-8000 or visiting www.aestages.org.