---

Boston Premiere of "The Andersen Project"
At ArtsEmerson, March 24 - April 1
The season at ArtsEmerson: The World On Stage continues with the Boston premiere of "The Andersen Project." Written and directed by theatre visionary Robert Lepage, the piece is performed by Yves Jacques. Performances are scheduled to take place March 24 - April 1 at the Cutler Majestic Theatre, 219 Tremont Street, in Boston's Theatre District.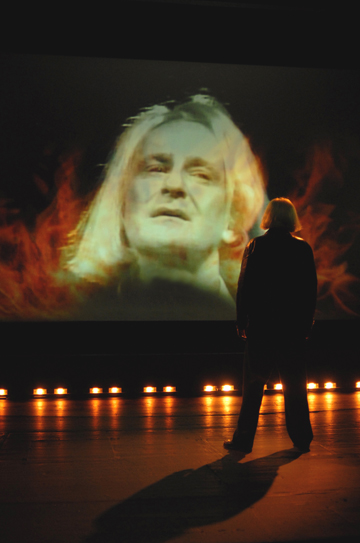 In this frequently comic masterpiece, a Canadian rock-'n-roll writer is unexpectedly commissioned by the Opéra Garnier in Paris to write a libretto for a children's opera, based on the work of Hans Christian Andersen, who, as it turns out, never really liked children.
Hailed by The Guardian UK as "a theatrical conjurer, whose dazzling shows have captivated audiences around the world," writer and director Robert Lepage is known worldwide for his creative and original approach to theatre.
In this modern fairy tale, Yves Jacques ("The Far Side of the Moon") is a one-man tour-de-force as the Canadian songwriter caught by surprise as he is asked to write a libretto. Arriving in Paris, he discovers that his living quarters, borrowed from a friend, are on the fourth floor of a building that is also home to a peep show, frequented by the Opéra Garnier's administrator (a man with some odd and unusual likings). He also meets a young janitor and graffiti artist of North African descent, and a dog who could well be guiding the tale along its way.

Freely inspired from two stories by Andersen (The Dryad and The Shadow) and from anecdotes drawn from the famed Danish author's Parisian travels, "The Andersen Project" calls on some of Lepage's recurring themes: the confrontation of romanticism and modernism, and of recognized and underground art forms, past and present. However, in this new work, he also explores more troubling territories: questions about sexual identity, unfulfilled fantasies; and a thirst for recognition and fame drawn from Andersen's life and writings.

The production is recommended for ages 14 and up.
For tickets and information, stop by the box office, call 617-824-8400 or visit www.artsemerson.org.