---

Zeitgeist Stage Company
Presents Alan Ayckbourn's "Time of My Life"
The season at Zeitgeist Stage Company continues with Alan Ayckbourn's "Time of My Life," running February 10 - March 3 in the Plaza Black Box Theatre at the Boston Center for the Arts, 539 Tremont Street in Boston's South End.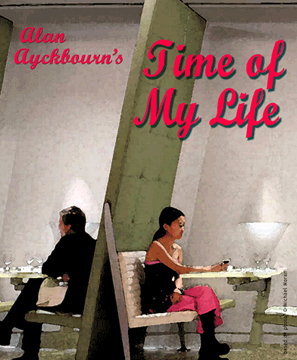 First produced in 1992, "Time of My Life" revolves around a dinner party at a favorite restaurant, organized by successful businessman, Gerry Stratton, to celebrate his wife's 54th birthday. Also present is their elder son, Glyn, his wife and their younger son, Adam, with his new girlfriend.

After the dinner party breaks up, Ayckbourn takes the play in three different directions simultaneously. The parents remain in the present, disclosing secrets and redefining their relationship. The oldest son's story moves forward in time over the course of two years, exposing a troubled marriage and a failing business. And the youngest son's story moves backwards in time, revealing the beginnings of his new relationship with the girlfriend he brought to the family dinner.

By juxtaposing events from the past, present, and future, Ayckbourn reveals the entire spectrum of the family experience associated with the life-changing dinner party.
Under the direction of David J. Miller, the company includes Maureen Adducci, Michael Steven Costello, Gene Dante, Margarita Martinez, Glen Moore, Evan Sanderson and Ellen Soderberg.

The prolific Sir Alan Ayckbourn is considered to be one of the world's pre-eminent dramatists. Ayckbourn is a Tony, Olivier and Moliere Award winner with 76 plays to his credit, including "How the Other Half Loves," "Absurd Person Singular," "The Norman Conquests," "Bedroom Farce," "Woman in Mind," "Communicating Doors," "Life of Riley" and "Neighbourhood Watch." His plays have been presented in London's West End, Britain's National Theatre, on Broadway, Off-Broadway, and in regional theaters across the United States and the United Kingdom, as well as having been translated into 35 languages.
For tickets and information, stop by the box office at the adjacent Calderwood Pavilion, call 617-933-8600 or visit BostonTheatreScene.com.