"Reflections Of A Rock Lobster"
At Boston Children's Theatre
World Premiere Opens Up About
Anti-Bullying, Tolerance & Acceptance
Boston Children's Theatre (BCT) will be the first children's theater in the country to produce the play "Reflections Of A Rock Lobster" about a gay teenager's fight to defend his life and preserve his civil rights in the wake of bullying, prejudice and intolerance. Performances will take place March 3 - 11 in the Wimberly Theatre at the Boston Center for the Arts, 527 Tremont Street in Boston's South End.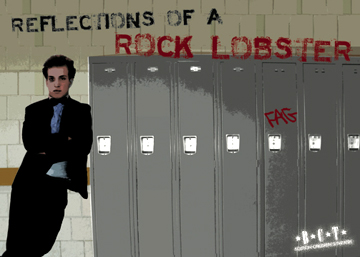 Based on the true story of Aaron Fricke, and adapted by BCT Executive Artistic Director Burgess Clark for the stage, "Reflections Of A Rock Lobster" is about tolerance, understanding and acceptance.

The year is 1980 and Aaron is gay -- which makes him different. He is subjected to violence and rejection on a daily basis-- leaving him with thoughts of suicide.
Rising from his despair, Aaron strikes back by suing his Rhode Island high school for the right to escort his boyfriend to the prom. By standing up for his personal and civil rights and for refusing to apologize for who he is, Aaron not only wins his court case but also wins in the hearts and minds of his peers and his community. His strength and ultimate victory help pave the way for legions of gay and lesbian students.

Currently living in San Francisco, Fricke is working closely with BCT on the production. "I am thrilled that a new generation of young people is being introduced to my story," he commented. "To be honest, it's not really my story, it's everyone's story. I think everyone will be able to relate to what I experienced. The fact that bullying and prejudice still exist today in our society, makes this play even more relevant and powerful."

Burgess Clark, who is also directing this production, explained, "As one of America's oldest children's theaters, Boston's Children's Theatre is extraordinarily proud to lead the national charge for greater understanding, healing and harmony among today's youth. By enlightening audiences with positive messages about tolerance and acceptance, we hope to encourage families and students to talk more openly about the emotional and physical effects of bullying and how we can all prevent it from happening in our communities."
Boston Mayor Thomas M. Menino commented, "I applaud Boston Children's Theatre for producing a World Premiere play that addresses issues that have such a profound impact on our community. Bullying, prejudice and anti-gay sentiments cannot be tolerated in our schools or in our society. 'Reflections of a Rock Lobster' teaches us all the importance of acceptance and tolerance in an entertaining, creative and powerful way. I congratulate their efforts and I encourage everyone to experience this ground-breaking production."
Broadway actor ("Hair") and LGBT activist Gavin Creel added, "Bravo to the Boston Children's Theatre for using the power of the performing arts to illuminate the struggles and beauty of the LGBT community. You guys are inspiring! Good luck with the run!"
"Reflections Of A Rock Lobster" will be performed by students between the ages of 14 and 19 alongside several adult actors. The student cast includes Andover residents Conrad Krendel-Clark and Kim Uggerholt; Bedford resident Natalie Vatcher; Belmont resident Alex Aroyan; Boston residents Rosie Cerulli, Joy Kozu and Emily White; Boxford resident Kristina Kastrinelis; Braintree resident Rachel Padell; Brookline residents Sophia Pekowsky and Felix Teich (as Aaron's boyfriend 'Paul Guilbert'); Burlington resident Futaba Shioda; Charlestown resident Kevin Paquette; Londonderry, NH resident Anthony Esielionis; Melrose resident Julia Talbot; Middleton resident Sean Crosley; Newton resident Alex Levy; North Reading resident William Goldstein; Quincy residents Ellis Hampton, Nicholas McNeil and Niamh O'Connor; Reading resident Aly Grindall; Rowley resident Marianna Odoy; Sandwich resident Megan McMahon; South Hamilton resident Ian Shain (as 'Aaron Fricke'); Swampscott resident Justin Hynes; Worcester resident Ashley Hevey; and Linnea Shulz of Sweden.

The adult cast features Paula Plum as Aaron Fricke's mother; Richard Snee as Aaron Fricke's father; Doug Bowen-Flynn as Cumberland, RI principal Richard Lynch; Allan Mayo as activist John Delaney; and Nate Punches as both Defense Attorney Donald Chase and a RI State Trooper.
"Reflections Of A Rock Lobster" contains mature subject matter and content. BCT recommends parental discretion. The production is supported by lead sponsors Vivian Shoolman and Jim Stone, and producing sponsors BNY Mellon and The Fireplace Restaurant.
For information and tickets, call 617-424-6634, x222 or visit www.bostonchildrenstheatre.org.