"Deported / a dream play" by Joyce Van Dyke
At Modern Theatre
March 8 – April 1
Boston Playwrights' Theatre's 30th Anniversary season will come to a close with Joyce Van Dyke's riveting story of the Armenian genocide in "Deported / a dream play," presented in association with Suffolk University. The production will run March 8 - April 1 at the newly renovated Modern Theatre at Suffolk University, 525 Washington Street in Boston.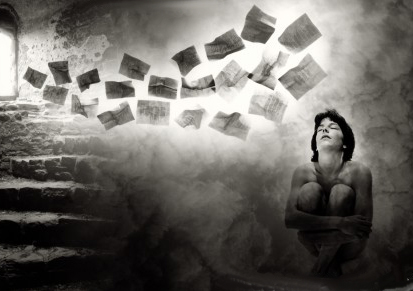 Directed by Judy Braha, the ensemble cast includes Ken Baltin, Mark Cohen, Liz Hayes, Jeanine Kane, Marya Lowry, Rob Najarian and Bobbie Steinbach. The production also features music along with Armenian dance choreographed by Apo Ashjian of Sayat Nova Dance Company.
Playwright Joyce Van Dyke is a descendant of Armenian genocide survivors. She explores her own family history and that of so many Armenian families whose lives were forever changed by interweaving the memories and dreams of two women whose friendship and history binds them.
Van Dyke was inspired by the true stories of her grandmother, Elmas Sarajian Boyajian, and Elmas' best friend, Varter Nazarian Deranian (the mother of Dr. H. Martin Deranian of Worcester). During the two decades before World War I, the Ottoman government engaged in repeated massacres of its Armenian citizens. These massacres culminated in the genocide that began in 1915. Armenian men were rounded up and killed while the women and children were "deported," culminating in a death march through the desert which few survived.
In the summer of 1915, Varter Nazarian and Elmas Sarajian (called "Victoria" in the play) were among those deported with their children from the city of Mezireh in what is now Turkey. Elmas had three children. Varter had six, with another born to her on the deportation route. The two friends lost all their children on the deportation. They eventually reached Aleppo where they remained until 1920 when they boarded a ship bound for the United States. In America, each woman remarried and had another child. Elmas and Varter remained close friends until Varter's premature death in 1929. Elmas died in her sleep in 1977.
Van Dyke is also the author of "The Oil Thief," originally commissioned by the Ensemble Studio Theatre / Alfred P. Sloan Project, and winner of Boston's 2009 Elliot Norton Award for Outstanding New Script (Boston Playwrights' Theatre). She is also a MacDowell Colony Fellow, a Huntington Theatre Playwriting Fellow, and has won the John Gassner Award, Provincetown Theatre Playwriting Award, and Boston Globe "Top Ten" plays of 2001. With an MA in playwriting from Boston University, a PhD from the University of Virginia, and a BA from Stanford, she teaches Shakespeare at Harvard University Extension School.
"Deported " was developed collaboratively by the actors, director and playwright, with additional contributions from Sayat Nova Dance Company, Project SAVE Armenian Photograph Archives, and the Armenian Library and Museum of America in Watertown.
For ticket and information, call 866-811-4111 or visit www.bostonplaywrights.org.