Big Apple Circus Returns for 34th Season
With
"Dream Big"
Grandma's Farewell Tour
For its 34th Season the Big Apple Circus dares you to "Dream Big!" in an all-new show coming to Boston's City Hall Plaza March 27 - May 13. The Big Apple Circus Big Top is heated in cold weather and air–conditioned when it's warm, for all - season comfort no matter the weather.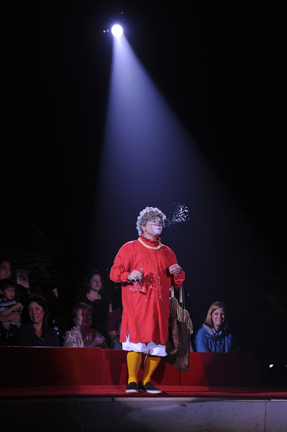 As always, The Big Apple will summon up a collection of amazing performers. A juggler with a suit to fit his sweet feats of fancy handiwork. A mechanical doll who comes alive in a sinuous balancing act. Spirited horses, frolicsome dogs and a capybara and porcupine to perk up the sawdust party. Audacious acrobats who astound with athletic grace. Comical conjurers with magical moments of grand illusion. The aerial daring of the trapeze flyers. A singing Ringmistress and the Big Apple Circus Band creating the ringing melodies of memories to last. Plus Grandma, apogee of comical aspiration and mirthful joy.
Under the direction of Guillaume Dufresnoy the new show features:
• From the US, International Clown Hall of Fame inductee Barry Lubin, and his unforgettable clown Grandma in a farewell tour as star of the Big Apple Circus.
• From Colombia, the astonishingly talented Flying Cortes return to the ring in a breath–taking trapeze routine with startling, soaring leaps and flips.
• From the US and Holland, Scott Nelson and Muriel Brugman make a lovable and mischievous magician and assistant duo, sparking laughter with their hilarious mannequin act.
• From Russia, with extreme elegance and pinpoint poise, Anna Volodko mesmerizes as she twists up and falls down the aerial rope.
• From the US, the beautiful Jenny Vidbel presents fiery Arabian horses and playful pooches, with a surprise or two to keep it lively.
• From Russia, the extraordinary Dmitry Chernov enigmatically juggles around the ring in an intriguing and innovative routine.
• From China, the Shandong Acrobats surprise with their eleven - man human juggling show.
• From Switzerland, the spellbinding solo hand balancer Melanie Chy captivates with her fantastic flair.
• From the US and Bulgaria, the brilliant Jenna Robinson hosts the circus with style and spirit, accompanied by her agile and faithful factotum, Andrey Mantchev.
After creating world renowned opera and musical productions in North America and Europe, the designer/director team of André Barbe and Renaud Doucet join the Big Apple Circus to create another whimsical show. As always, Music Director Rob Slowik leads the Big Apple Circus Band.
For 34 years the Big Apple Circus, New York's original one-ring circus, has been delighting audiences of all ages under its Big Top by presenting the finest in live family entertainment featuring world-class circus artistry.
For tickets and information, call 800-922-3772.