Laughter & Love Come to Merrimack Rep
With "Voice of the Turtle"
January 5 – January 29
John Van Druten's "The Voice of the Turtle," a fresh and surprisingly modern 1943 romantic comedy about single life and sexual yearning in wartime Manhattan, will play Merrimack Repertory Theatre in Lowell from January 5 – January 29, 2012. The production will be directed by Carl Forsman with a cast featuring Hanley Smith, Megan Byrne and William Connell, all in their MRT debuts.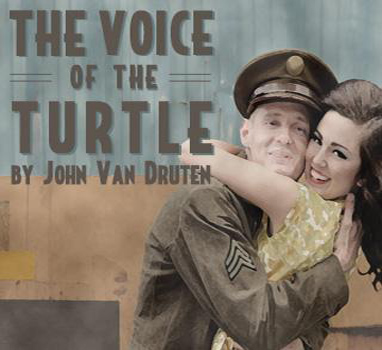 In the play, a serviceman on leave finds himself without a date or a place to stay, only to accidentally arrive at the apartment of a wide-eyed young actress.
Carl Forsman commented, "'Voice of the Turtle' was one of the plays that put my New York theater, Keen Company, on the map. It's one of my favorite plays I've ever directed, and I am so excited to be directing this production at my favorite home away from home, MRT."
He added, "I still think it is the most deft American romance ever told - full of feeling and humor and loads of heart and charm. But I also know that its secret power is that it reminds everyone that our chances for love are stuck in small moments, and we have to seize our chances when they come, because the future is uncertain. I can't wait to share this beautiful play with the Lowell community. 'Voice of the Turtle' is still one of the longest-running plays in Broadway history, and with good reason: it's simply a beautiful story, beautifully told."
Playwright John Van Druten was born in London and originally practiced law before pursuing a career as a writer. He enjoyed tremendous success in the West End in the 1920s & 3's with "Young Woodley," "Diversion," "After All," "London Wall," "There's Always Juliet," "Somebody Knows," and "Flowers of the Forest." He later moved to America where he wrote "The Voice of the Turtle." He directed the Broadway production, which ran for 1,558 performances from 1943-47, making it the 9th longest-running play in Broadway history. Van Druten also directed the first production of "The King and I" in 1951, which ran for 1,246 performances on Broadway. He also published two novels, Young Woodley and The Vicarious Years, and two autobiographies, The Way to the Present and The Widening Circle: Personal Search.
Related Events:
January 5 at 7:30 p.m.
Pay What You Can Night
Patrons may purchase tickets in cash at the Box Office between 4:30 and 7:30 p.m. and name their ticket price. Following the performance, there will also be a Director's Dialogue, where the director and designers field audience questions and describe how the play was staged.
January 7 at 8 p.m.
Lowell Night
Lowell residents may purchase tickets for $10 at the box office from 5 - 8 p.m. Proper ID required.
January 8 at 7 p.m.
Opening Night
Audience members are invited to join Merrimack Rep's staff and cast after the show in raising a glass of champagne to celebrate the opening of the production.
January 11 at 2 p.m.
Cookie Matinee
Patrons enjoy complimentary cookies and coffee in the lobby before the show, courtesy of Brew'd Awakening Coffeehaus.
January 12, January 19, and January 26 at 7:30 p.m.
Post Show Forums
Audiences can stay after the performance to learn the inside scoop and chat with the actors. Sponsored by Yellowbook.
For tickets and information, stop by the box office at 50 E. Merrimack Street, call 978-654-4678 or visit merrimackrep.org.