ArtsEmerson Presents World Premiere
Of Robbie McCauley's "Sugar"
The second season of international theater programming at ArtsEmerson: The World On Stage continues with the world premiere of "Sugar," the one-woman show by renowned theater artist and Emerson College faculty member Robbie McCauley. Performances will take place January 20 – 29 at the Jackie Liebergott Black Box in the Paramount Center, 559 Washington Street, in Boston's Theatre District. Maureen Shea directs the production which features original music composed and performed by Chauncey Moore.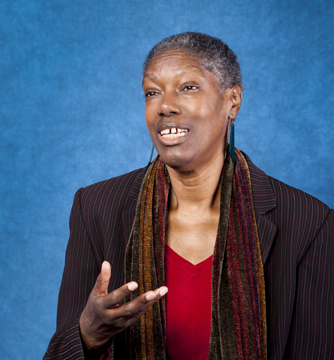 From the comfort foods of the South to the free-spirited world of 60s and 70s avant-garde theater in New York, the award-winning McCauley (at left) vividly portrays her extraordinary life's journey. From downtown to Broadway and beyond, Robbie cracks open silences about the pains and triumphs of living with "a little bit of sugar" -- diabetes, a disease that affects many Americans, and many more African-Americans.
Against the backdrop of McCauley's own remarkable life as an internationally acclaimed performance artist, "Sugar" looks at everything there is to see about sugar, from slavery to colonialism to American mythologies to diabetes. Her survival tales have been shaped from her own life, as well as interviews with other diabetics, their families, friends and health care providers both locally and nationally.
Robbie McCauley has been an active presence in American avant-garde theater for more than three decades. Her early work in New York included performances in plays by Lanford Wilson at Cafe Cino and by Adrienne Kennedy at the New York Shakespeare Festival. On Broadway, she appeared in the original cast of "For Colored Girls Who Have Considered Suicide When the Rainbow is Enuf" by Ntozake Shange. In the 1990s, she received both an OBIE Award (Best Play) and a New York Dance and Performance (BESSIE) Award for "Sally's Rape," which she wrote, directed and performed nationally and internationally. She is currently a Professor at Emerson College.
"Sugar" is produced in collaboration with the Performing Arts Department at Emerson College and was created in collaboration with Artists In Context. A talkback with McCauley will follow each performance.
For tickets and information, stop by the box office, call 617-824-8400 or visit www.artsemerson.org.
Photo: Paul Marotta