A Review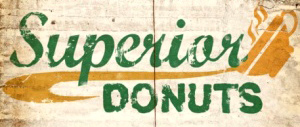 Tasty Treat
By R. J. Donovan
Living in the middle of Dunkin Donuts-Land, as we do, it may be difficult for some of us (not me, of course) to remember the days of local donut shops. Single stores, privately owned, located on the corner and personally managed by folks from the neighborhood who created a hangout for friends and family.
That ambiance and culture is front and center in Tracy Letts' immensely entertaining "Superior Donuts" now at Lyric Stage in its Boston premiere.
The shop, Superior Donuts, is a less than a sparkling venue. Hard times have hit the Chicago neighborhood. Well-worn Formica fills the shop (thanks to designer Matthew Whiton) strewn with tables and leatherette chairs left over from the Fabulous Fifties. The addition of yet another Starbucks across the street has further diminished the ebb and flow of clientele.
The evening opens with vandalism. Despite that, Superior Donuts plugs along, driven by its owner -- Arthur Przybyszewski -- who, while burnt out by life, maintains the shop in the tradition of his Polish immigrant parents who once slaved away in the kitchen and at the counter. The friends and family who, in this case, populate the shop, include the two cops from the street, an alcoholic bag lady and the aggressive Russian who owns the DVD shop next store.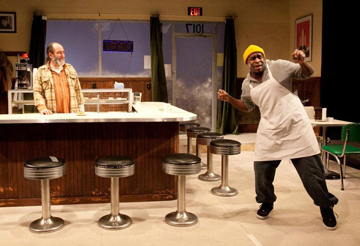 While Arthur, an over the hill hippie with a ponytail and a scruffy beard, is a man of few words in the shop, his reflections and heartfelt backstory are revealed through inner monologues that pepper the plot.
Arthur's placid, seemingly uninteresting world, is challenged when he hires Franco, an ambitious Afro-American college drop-put who's helping support his mother and sister -- and who won't take no for an answer. He's also written America Will Be, the Great American Novel -- in longhand. Working the counter, pouring java and serving donuts is fine with him. However, he thinks the shop could use a little zing. What about baking muffins, adding music and having a poetry reading?
Both men have a secret. With a ponytail from days gone by, Arthur was a draft evader (not resister) And Franco has a problematic gambling itch. Still, the two forge an unlikely friendship that is far from standard.
Although this may sound like the makings of a 70's sitcom, there's more in store than you might think. Thanks, in no small part, to the wonderful performances by Will LeBow as Arthur and Omar Robinson as Franco. While LeBow is a much-honored veteran of the Boston theater scene, Robinson is making his first appearance at Lyric. Here's hoping we see much more of him in the seasons ahead.
Director Spiro Veloudos lets the emotions rise and fall naturally, often allowing his ensemble company to take a very realistic, less-is-more approach. And although a fight scene in the second act was sluggish (no pun intended), the pace of that one sequence should improve as the run continues.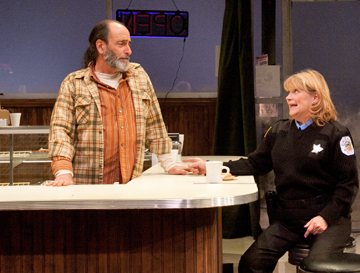 The cast at Lyric is solid from start to finish. Karen MacDonald and De'Lon Grant are Randy and James, the two cops on the beat. Randy, coming from a family filled with brothers, has an uncomfortable crush on Arthur and MacDonald (at left with LeBow) does a nice job sputtering around the issue of asking him out without actually asking him out.
Beth Gotha is the bag lady, Christopher James Webb is local hood and Steven Barkhimer is Max, the Russian who owns the shop next door. Barkhimer is only on stage at the top and end of the show, but he delivers a wonderfully comic turn as the brash, WTF foreigner who says exactly what's on his mind as he works to get exactly what he wants.
Boston audiences will know Tracy Letts work from the superb (and Pulitzer Prize-winning) "August: Osage County" that ran at The Colonial a few seasons back. While that was a brutal chronology of family dysfunction, "Donuts" is sweeter and far less intense, although is comes with its moments.
All in all, a highly satisfying treat with which to start the new year.
"Superior Donuts " is at Lyric Stage Company of Boston through February 4. For information, call 617-585-5678.
-- Production Photos: Mark S. Howard
-- OnStage Boston