A Review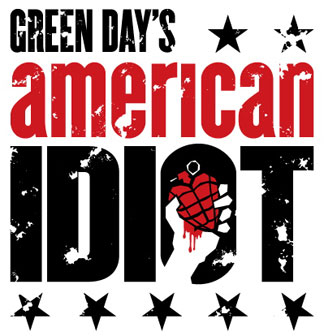 Life, Love & Country
By R. J. Donovan
"American Idiot" comes roaring at you like an exuberant rock-driven super train. Inspired by the 2004 Grammy Award-winning music of Green Day, the rebellious story follows three sharply defined hometown friends -- Johnny, Tunny and Will -- who, in a post-911 world, each take a different road in life. No matter their path, none wants to be "an American Idiot," which just happens to be the in-your-face opening number.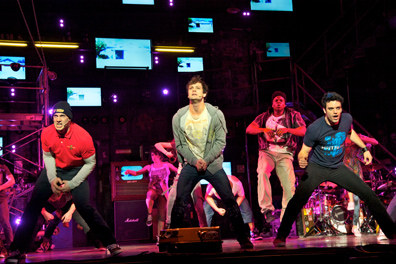 Erupting like a high-tech volcano of blinding light and dizzying videos splashed across the show's warehouse-like set, "American Idiot" created a sensation on Broadway where it rocked the St. James Theatre for more than a year. The national tour of the intense rock opera plays the Boston Opera House through January 29.
Of the three buddies, Johnny goes off in search of adventure in the big city. He hooks up with a girl (Gabrielle McClinton) and finds himself under the influence of a drug dealer (Joshua Kobak from the original Broadway cast). He chronicles all of it in dated notes and letters home.
Tunny is off to serve his country. His days as a soldier in Iraq come into sharp focus when he's injured and loses a leg.
Will, meanwhile, watches the other two depart while he stays home to be with his pregnant girlfriend, who eventually leaves him.
Van Hughes is Johnny, lost in a world of big promises that don't deliver. Hughes performed the role on Broadway and has mastered the little man-big man character nicely. When he plans his adventure to escape the boredom of suburbia, he first says he knocked over a convenience store to get money. Then he says he stole it from his mother's purse. Finally he admits his Mom loaned him the cash.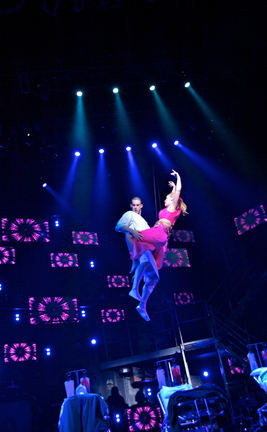 As Tunny, Scott J. Campbell has an outstanding moment in the dream sequence "Extraordinary Girl" in which he is freed from his military hospital bed to sail through the air in an aerial ballet with his nurse (at left).
Jake Epstein is Will, who faces life stuck at home on the couch, clutching a bottle of beer.
With very little dialogue, the show is both sung-through and without an intermission.
The company is filled with great voices, whether blasting to the rafters or thoughtfully presenting the ballads. Stand-out moments range from "Boulevard of Broken Dreams" to "Too Much Too Soon," "21 Guns," "Give Me Novocaine" and the haunting "Wake Me Up When September Comes." Vince Oddo does a great job with "Favorite Son."
For the curtain call, the entire company grabs guitars to serenade the audience with "I Hope You've Had The Time Of Your Life."
Lyrics are from Billie Joe Armstrong with a book by Armstrong and Michael Mayer, who also directs the production. Special kudos to Christine Jones for set design and Darrel Maloney for the dazzling video and projection design.
In the end, "American Idiot" is a vibrant, visceral howl from that seductive yet raging, youthful moment when the future appears vast and the possibilities seem endless.
"American Idiot " is at The Boston Opera House through January 29. For information, call 1-800-982-2787.
-- Production Photos: Doug Hamilton
-- OnStage Boston