Part Carnival, Part Protest, All Pageant
Bread and Puppet Presents
"Attica," "Man of Flesh," "Carrot Circus"
At Cyclorama
Bread and Puppet Theater will present "Attica" and "Man of Flesh and Cardboard" along with "Man = Carrot Circus" (family-friendly) in partnership with the Boston Center for the Arts as part of the Cyclorama Residency Series. Performances, as well as an Art Exhibit and Cheap Art Sale, run the week of January 23 - 29 in the Cyclorama at the BCA, 539 Tremont Street in Boston's South End.
The award-winning Bread and Puppet Theater, featuring Artistic Director Peter Schumann and his troupe of Vermont puppeteers, returns for a sixth year to the BCA, bringing their powerful imagery, masked characters and giant paper-mâché puppets.
Evening Performances (recommended for ages 12 & older):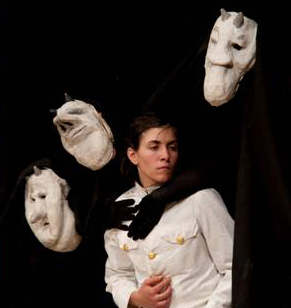 The evening's prologue, "Attica," marks the 40th anniversary of the prison riots at the Attica Correctional Facility in New York State. "Attica" was created in 1971 in direct response to the prison uprising, and was first performed in Bread and Puppet's Coney Island theater. The second part of the program is "Man of Flesh and Cardboard," the story of PFC Bradley Manning, who is charged with supplying restricted material to WikiLeaks.
Bread and Puppet confronts the irony of a soldier who faces conviction of a war crime for bringing war crimes to the light of day. This piece will be performed by director Peter Schumann and the Bread and Puppet resident company, along with a large number of local volunteer puppeteers and musicians. After each performance, the audience is invited to join an informal talk-back with the artists.
Family-Friendly Matinees:
The family-friendly "Man = Carrot Circus" is based on the revelation that an upright man rooted in dirt was created in the image of the upright carrot rooted in dirt. The production is recommended for audiences ages 1 to 101. Performed by Peter Schumann and the Bread & Puppet Company, along with a large number of local volunteer puppeteers and musicians. Note that some of the circus acts may be puzzling to adults, but accompanying kids can usually explain them. After each performance, the audience is welcome to examine all the masks and puppets and to peruse the art exhibit and Cheap Art, which will be for sale.
Visual Art Exhibit:
Bread and Puppet Theater: Upriser Calisthenics
A visual art installation created by Peter Schumann
Free and open to all.
Bread and Puppet Theater Artistic Director Peter Schumann's most recent visual art exploration, a collection of large posters with offbeat slogans which speak to matters that concern us all.
For this residency at the Cyclorama, the Bread and Puppet touring company includes Schumann, along with Maura Gahan, Greg Corbino, Katherine Nook, and Susie Perkins, among others. Both the evening and matinee performances will be performed by the company and a large number of local volunteers and musicians, including the popular Somerville-based Second Line Social Aid & Pleasure Society Brass Band which serves as the house band for Bread & Puppet's Boston performances and is also the host band for the annual HONK! Festival held in Davis Square.
All the visuals are created by Schumann, including the sculpting and painting of all the major masks and puppets, with input from the company. After each evening performance there will be an opportunity to savor Schumann's famous sourdough rye bread, smeared with garlic aioli; and there will also be opportunities during the week to purchase the theater's legendary "cheap art."
Bread and Puppet Theater, one of the oldest, nonprofit, self-supporting theatrical companies in this country, is an internationally recognized company that champions a visually rich, street-theater brand of performance art filled with music, dance and slapstick. Its performances are political and spectacular, with huge puppets made of paper-mâché and cardboard, a brass band for accompaniment, and anti-elitist dance.
For tickets and information, call 866-811-4111 or visit www.breadandpuppet.org. (Tickets will also be available for purchase -- cash or check only -- at the Cyclorama one hour before each performance.)