You Rang?
"The Addams Family"
Comes To The Shubert
February 7 - 19
The national tour of the newly revamped musical comedy "The Addams Family," based on the bizarre and beloved family of characters created by legendary cartoonist Charles Addams, will make its Boston premiere February 7 - 19, 2012 at the Citi Performing Arts Center Shubert Theatre as part of the LEXUS 2011-12 Broadway Across America – Boston Series.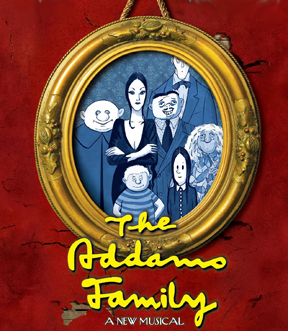 "The Addams Family" features a book by Marshall Brickman and Rick Elice, with music and lyrics by Andrew Lippa. Including everyone's favorite characters from Gomez and Morticia to Lurch, Grandma and Uncle Fester, the production is directed and designed (sets and costumes) by Phelim McDermott and Julian Crouch.

"The Addams Family" features an original story -- and it's every parent's nightmare. Your little girl has suddenly become a young woman, and what's worse, she's fallen deliriously in love with a sweet, smart young man from a respectable family. Yes, Wednesday Addams, the ultimate princess of darkness, has a "normal" boyfriend, and for parents Gomez and Morticia, it's a shocking development that turns the Addams house upside down when they are forced to host a dinner for the young man and his parents.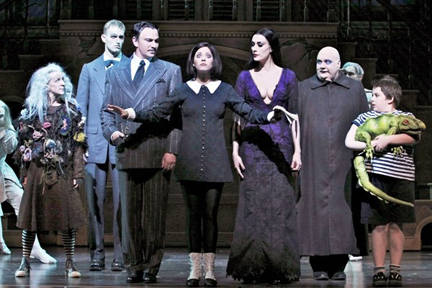 The cast features Broadway's Douglas Sills ("The Scarlet Pimpernell") as Gomez with Sara Gettlefinger ("Dirty Rotten Scoundrels," "Nine") as Morticia, with
Blake Hammond ("Sister Act," "Hairspray") as Uncle Fester, Pippa Pearthree ("Boeing-Boeing," "Inherit The Wind") as Grandma, and Opera star Tom Corbei as the towering Lurch.
"The Addams Family" began performances in March 2010 at the Lunt-Fontanne Theatre and immediately became one of Broadway's biggest hits, regularly grossing over $1 million a week.
Chris Jones of the Chicago Tribune described the production as "classic, full-tilt, fast paced, old-fashioned musical comedy!" while John Simon of Bloomberg News called it "uproarious! A glitzy-gloomy musical entirely worthy of the macabre drawings by Charles Addams."

In a prolific career spanning six decades, Charles Addams created several thousand cartoons, sketches and drawings, many of which were published in The New Yorker. But it was his creation of characters that came to be known as The Addams Family that brought Addams his greatest acclaim. With a unique style that combined the twisted, macabre and just plain weird with charm, wit and enchantment, Addams' drawings have entertained millions worldwide and served as the inspiration for multiple television series and motion pictures.
For information and tickets, stop by the box office, call 866-348-9738 or visit www.citicenter.org.
Production Photo: Deen Van Meer