Trinity Rep's
First Young Playwrights Competition
Trinity Repertory Company's Education Department will sponsor its first-ever Write Here, Write Now: Trinity Rep's Student Play Competition. Students in grades 9 to 12 from Rhode Island, Massachusetts and Connecticut are invited to submit an original short play (6-10 pages) by February 1, 2012. This new competition is being held in conjunction with "Three by Three in Rep" at Trinity Rep, a trio of world-premiere plays running February 16 - May 24.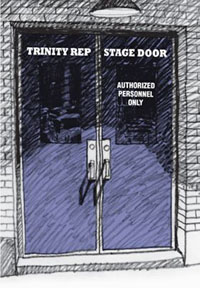 Education Director Caroline Azano commented, "At Trinity Rep, we are always tying the work in our classroom to the work on our stage. When it was announced that we would produce three new plays in repertory this season, it struck us as the perfect opportunity to deepen and emphasize our playwriting programs for students."

Entries will be reviewed by Trinity Rep staff, and three winners will be announced on March 1. The winning playwrights will have the opportunity to further develop their work with Trinity Rep staff members before having their play read by professional actors in front of an audience of friends and family.
Azano added, "Having professionals read one's work is such an essential step in play development, not usually available to young writers, so we are thrilled to be offering this unique experience."

Additionally, winners will receive a scholarship towards any Trinity Rep Young Actors Studio after-school class. As well, each winner's school will receive 20 free tickets to a Project Discovery student matinee performance during the 2012-2013 Season.
For an application and competition rules, visit www.trinityrep.com/education.
-- Artwork: Michael Guy
-- OnStage Boston