Rockettes Summer Intensive
Announces Upcoming Auditions
Boston Auditions On December 27
Madison Square Garden Entertainment has announced the 2012 audition cites and dates for the Rockettes Summer Intensive summer training program at Radio City Music Hall for local area aspiring dancers. Auditions in Boston are scheduled for December 27.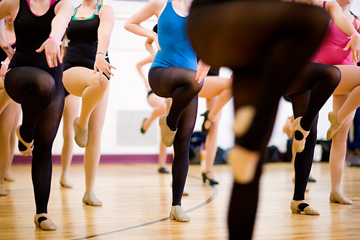 Now entering its 11th year, the Rockettes Summer Intensive offers aspiring dancers the unique opportunity to train with the world-famous Rockettes as well as a Rockettes Director / Choreographer and learn their signature precision dance technique.
Acceptance into the Rockettes Summer Intensive is a crucial stepping stone for Rockette hopefuls who aspire to one day dance with the legendary company. Since the inception of the Summer Intensive in 2001, 47 dancers who have gone through the program have gone on to become members of the world-famous Rockettes.

Rockettes Director and Choreographer Eileen Grace commented, "The Rockettes Summer Intensive is a pivotal program for serious dancers who want to gain the training and technique of the Rockettes precision dance style. Our dance education programs are invaluable for dancers and one of the best training tools for these talented Rockette hopefuls who strive to become part of the legendary dance company."

Audrey Thelemann, now a first-year Radio City Rockette, added, "It has always been my dream to become a Rockette and being accepted into the Rockettes Summer Intensive last summer gave me the confidence I needed. The knowledge I gained during my training was invaluable in helping to prepare me for my Rockette audition. I can't wait to perform at Radio City Music Hall this season, and will always be grateful to the Rockettes Summer Intensive for helping me make my dream a reality."

The Rockettes Summer Intensive is a weeklong program, running June 24 - August 3, 2012, and hosted at Radio City Music Hall in the actual studios where the Rockettes rehearse for their starring roles in the "Radio City Christmas Spectacular."
Dancers accepted into the program rehearse daily from 9:30 a.m. to 5:30 p.m., with group education seminars in the evenings. This distinctive style transcends a multitude of dance disciplines including jazz, tap, musical theater, lyrical, and of course the legendary Rockettes kick line. The curriculum focuses on original choreography and formations from the Rockette repertoire that will culminate in a student showcase.
To be considered for the Rockettes Summer Intensive, dancers must be at least 14 years of age (by June 22, 2012) with a minimum of 5 years training in tap, jazz, and ballet.
For exact audition times and locations, as well as more information on the Rockettes Summer Intensive, please visit Rockettes.com.