New Rep & arsenalARTS
Partner To Present
"A Christmas Story"
New Repertory Theatre and arsenalARTS are joining forces to present "A Christmas Story," set to run from December 11 - 24 in the Charles Mosesian Theatre at the Arsenal Center for the Arts in Watertown. Based on the iconic holiday film of the same name, "A Christmas Story " is adapted / written by Philip Grecian and will be directed by Diego Arciniegas.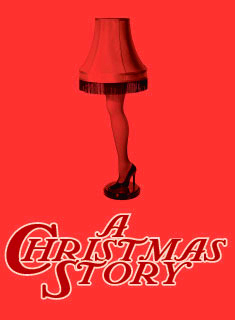 The holidays are upon Hohman, Indiana, in the idyllic 1940's. All the townsfolk are gearing up for the festivities, including Ralphie Parker, who's fixated on getting the most perfect, amazing Christmas gift -- an OFFICIAL RED RYDER carbine action 200-shot Range Model Air Rifle!
The cast features local favorites Andrew Cekala as Young Ralphie, Owen Doyle as The Old Man and Stacy Fischer as Mother along with Barlow Adamson, Margaret Ann Brady, David Farwell, Charlie Brodigan, Amelia Doyle and Adam Freeman.

Harriet Sheets, New Rep's Managing Director, commented, "It's a pleasure to be working with arsenalARTS on this delightful production. It's wonderful that our joint efforts will bring this charming holiday tale to adults and children alike." .

Sharon Glennon, Executive Director of the Arsenal Center for the Arts added, "This production exemplifies the kind of collaboration that has long been envisioned for this art center. Here in the beautiful state-of-the art Charles Mosesian Theater you will see the work of an award-winning professional theater company."
Playwright Philip Grecian has served as the founding director, producer, artistic-managing director and resident playwright for numerous theater organizations. He continues to maintain a connection with Creede Colorado Repertory Theatre, where his plays have been produced and where he has returned as a guest performer. His other adaptations include "In His Steps," "A Christmas Carol," "Dracula!," and "The Velveteen Rabbit." His plays "The Dragon of Nitt" and "Lion and the Lyre" have been translated and performed in Russia.
For information and tickets, stop by the box office at 321Arsenal Street in Watertown, call 617-923-8487 or visit www.newrep.org. Free parking is available adjacent to the theater in a six-level parking garage.