"It's a Wonderful Life: A Live Radio Play"
Returns To Trinity Rep
December 9 - 31
For the second holiday season, Trinity Rep will bring Joe Landry "It's a Wonderful Life: A Live Radio Play" to life. An adaptation of the heartwarming film classic, the production plays from December 9 - 31 in the Dowling Theatre. Trinity Rep's Associate Artistic Director Tyler Dobrowsky directs.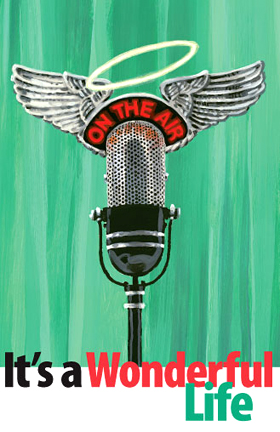 After years of putting off his own dreams to help others, everyman George Bailey finds himself on the wrong end of humanity. His luck takes a nosedive when a rival businessman steals his last penny – along with his reputation.
Despondent on Christmas Eve, George is about to end his life – until guardian angel Clarence steps in to save him. Bailey rebuffs Clarence's dose of perspective by angrily wishing he'd never been born. Clarence obliges, showing George what life in Bedford Falls would have been like without him. He eventually sees that he's truly "the richest man in town."

Trinity Rep's production is set as a period radio play being broadcast on Christmas Eve, 1949. The show's five actors -- Mauro Hantman, Rachael Warren, Joe Wilson Jr., Annie Scurria and Tim Crowe, playing more than 50 characters as an ensemble cast -- and skillful Foley artist Benji Inniger, who manually produces the show's sound effects, act out the story.

Trinity Rep audiences will not only experience the heartwarming tale of George Bailey, but also the ingenuity and entertainment of actors performing a live radio play in 1949.
Director Tyler Dobrowsky commented, It's's fascinating to watch the sound effects, like ice breaking or a car door slamming, be performed on stage."

Dobrowsky attributes the success of last year's production to the story's powerful resonance with audiences. "When you come to the end of story, and George Bailey is back at his home, surrounded by loved ones, it makes you realize what's truly important: love, charity, family, friends."
Playwright Joe Landry's published plays include "Vintage Hitchcock" and "Reefer Madness." Other projects include "Mothers and Sons," a musical (with Kevin Connors) and "Lifeboat, Dahling!" (with Bert Bernardi).
The show's first performance on December 9 at 7:30 p.m. has been designated Pay What You Can (PWYC). PWYC tickets go on sale at 6:30 p.m., with a limit of one ticket per person.
For information and tickets, stop by the Trinity Rep box office at 201 Washington Street in Providence, call 401-351-4242 or visit www.trinityrep.com.