Stoneham Theatre Present
"The Nutcracker"
Created by The House Theatre of Chicago
Stoneham Theatre will present "The Nutcracker," written by The House Theatre of Chicago, from November 25 - December 22. Based on the story by E.T.A. Hoffman, the production is directed by Caitlin Lowans and choreographed by Ceit Zweil, with a book by Phillip Klapperich and Jake Minton, music by Kevin O'Donnell and lyrics by Jake Minton.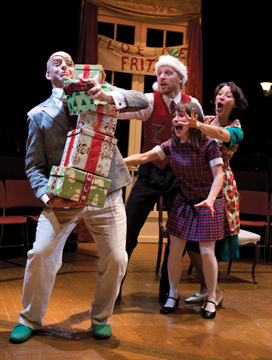 When stripped of all its usual 1950-ish Tchaikovsky tinsel, "The Nutcracker," as imagined by The House Theatre of Chicago and adhering closely to Hoffman's dark original, becomes a riveting tale of a family in shock, with parents immobilized by the grief of losing their soldier son Fritz.
A year ago, an unexpected knock on the door during a Christmas Eve party changed everything. Now, a year later, there are no plans for special Sugar Plum cookies, just pizza bagels.
But daughter Clara is on a quest to take back the light of Christmas, with the much needed boost from her Great Uncle Erich Drosselmeyer who has fashioned for her a Nutcracker doll with an uncanny resemblance to her brother Fritz. In fact, it is Fritz, whose spirit embodies the doll and is determined to help empower Clara and her legion of toys to rid her home of the rat demons who have haunted the place for a year. For Clara, enough is enough with all this doom and gloom.
The production also brings into focus what happens to children when parents can't express emotions that need to be vocalized. Children are kept at bay and in the dark. But kids are smarter than that. And they are very much aware of being shut out. Clara is indeed one of those kids and she's not going to take it any more. First on the agenda, time to make Sugar Plum cookies. Not so fast, says a Rat! And with that, "The Nutcracker" games begin.
The cast features Sirena Abalian, Danny Bryck, Bill Gardiner, Meagan Hawkes, Mark Linehan, Grant MacDermott, Alycia Sacco, and Nick Sulfaro.
Additional Events
Sunday, November 27, following the 2:00 p.m. matinee
Talkback:
Join the Stoneham Theatre artists and cast in a spirited discussion of the play, the process, and all things theatre. Refreshments will be served; space is limited.
Saturday, December 3, 11:00 a.m. - 12:30 p.m., prior to the 1:00 p.m. matinee.
"Working Together: Building an Ensemble" Workshop
The young company at Stoneham Theatre is offering a workshop taught by actor Danny Bryck. All workshop participants will have the opportunity to attend the 1:00 p.m. matinee. Recommended age for participants: grades 4-7 (with parental permission). Limited to 15 students. The $20 per person fee includes a student price ticket to the show. Further information can be obtained by contacting Laura Smith, Education Assistant, 781-587-7914, laura@stonehamtheatre.org.
Friday, November 25
Pay-What-You-Can Performance
Patrons have the option of "buying" tickets one hour before the performance with a new unwrapped toy. All toys will benefit the U.S. Marine Corps Reserve Toys for Tots Program and will be distributed as Christmas gifts to the less fortunate children in the area. Toys will be accepted as Pay-What-You-Can payment only for the 7:00 p.m. performance on Friday, November 25.
Stoneham Theatre is an official drop-off location for Toys for Tots, for more information about the program, visit www.toysfortots.org. Toy donations for Toys for Tots will be accepted through December 23rd.
For tickets and information, stop by the box office at 395 Main Street in Stoneham, call 781-279-2200 or visit www.stonehamtheatre.org.
-- Production Photo: Michael Brosilow