---

Not A Box New Play Festival
At GAN-e-meed Theatre
From December 1 - 4 at Boston Playwrights' Theatre, GAN-e-meed Theatre Project will present Not A Box New Play Festival, a variety of thought-provoking new work by artists from Boston and beyond. Originally conceived as a vehicle for The 1-Page Play Experiment, the Festival has grown into a weekend of innovative theatre that seeks to actively engage the audience with the creation and performance of new work.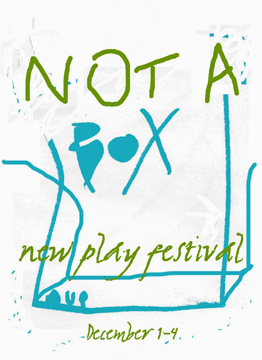 Fans of last season's 1-Page Play Experiment will be happy to see that in its second season, GAN-e-meed will be producing the five winners of last years' experiment: "Mortal City," by Allie Herryman, adapted from the song "Mortal City" by Dar Williams; "Pulse," by Stacey Lane; "Untitled," by Danny Bryck; "tired," by Alyssa Osiecki and Dave Ring; and "The Internet Means Never Having to Say Goodbye," by N. Harrison Ripps.
These five plays, selected by audiences as the best of 15 finalists last December, were the result of a unique challenge. Artists were asked to submit a piece that would function as visual, textual, and performance art while staying within the confines of a single page. The directors of last year's staged readings (Dawn Simmons, Jen Allison Lewis, and Melanie Garber) are returning to bring these five plays to life for their world premieres.
As part of the weekend, there will be one free afternoon of theatre. GAN-e-meed will present staged readings of this year's 15 1-Page Play Experiment finalists, to be announced shortly. Coming on the heels of last year's success, the call for submissions yielded work from as far away as France and Greece. As in the past, the audience will vote for this years' five winners over the course of the festival weekend. The afternoon of free theatre will also include an original performance by this years' Mystery Artist.

Performances of Not A Box New Play Festival will be in the Odyssey Theatre at Boston Playwright's Theatre, 949 Commonwealth Avenue in Boston. The free performance of the 15 finalists in The 1-Page Play Experiment will be held on December 3 at 2 p.m.
For information and tickets, call 866-811-4111 or visit www.ganemeed.org.