National Tour Of "High"
Starring Kathleen Turner
Kicks Off At Cutler Majestic
December 6 - 11
Two-time Golden Globe winner, Academy Award and Tony Award nominee Kathleen Turner will launch the National Tour of Matthew Lombardo's play "High," from December 6 – 11 at the Cutler Majestic Theatre. Directed by Rob Ruggiero, "High" also features Evan Jonigkeit and Timothy Altmeyer. The original Broadway production played The Booth Theatre earlier this year. (Jonigkeit was nominated for an Outer Critics Circle Award for his performance.)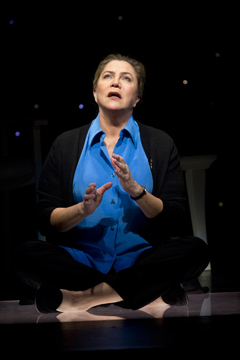 The National Tour will include 8 - 10 more cities including Fort Lauderdale, Philadelphia, Washington DC, Chicago and San Francisco, among others. A London production is also being planned for the summer of 2012.
In "High," when Sister Jamison Connelly (Turner) agrees to sponsor a 19 year-old drug user (Jonigkeit) in an effort to help him combat his addiction, her own faith is ultimately tested. Struggling between the knowledge she possesses as a rehabilitation counselor and a woman of religious conviction, she begins to question her belief in miracles and whether people can find the courage to change. "High" explores the universal themes of truth, forgiveness, redemption and human fallibility.
Kathleen Turner returns to Boston for the first time since her Tony nominated performance as "Martha" in the 2005 Tony Award winning revival of "Who's Afraid of Virginia Woolf?" Other notable performances include "Cat on A Hot Tin Roof," "Indiscretions" and "The Graduate."
"I am so glad to be continuing my work on this extraordinary play", Turner said in a statement. 'High' has been a compelling, rewarding experience and I am looking forward to bringing this tour to Boston, a city I love and has been so welcoming to me."
For information and tickets, stop by the box office at 219 Tremont Street, call 617-824-8000 or visit www.aestages.org.
NOTE: "High" contains mature themes, strong language, and nudity.