Reagle's "Christmas Time"
To Feature Broadway's Sarah Pfisterer & Rick Hilsabeck
Annual Toy Drive Returns For Every Performance
The Reagle Music Theatre of Greater Boston has announced that Broadway stars (and real-life couple) Sarah Pfisterer and Rick Hilsabeck have been added as special guests to the company's annual holiday revue "Christmas Time," now in its 29th season. Performances are December 3-11 at the Robinson Theatre, 617 Lexington Street in Waltham.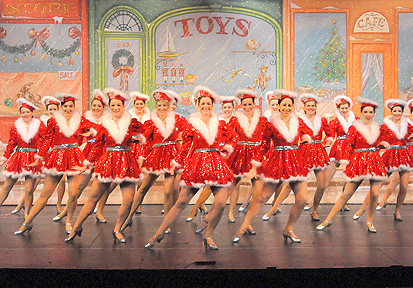 This joyous holiday celebration presents all the trimmings of the season in heartwarming choral and dance numbers, beautiful costuming and custom scenery designed and painted by world renowned artist Robert Moody. Created and directed by Reagle's founder and executive producer Robert Eagle, "Christmas Time" boasts a feast of timeless holiday favorites plus a full,professional orchestra.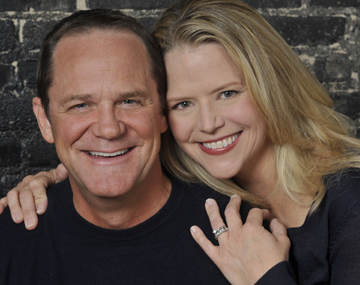 Sarah Pfisterer (at left) -- Broadway's "Phantom of the Opera," "Show Boat" --is a Reagle favorite who has starred at Waltham in "Beauty and the Beast," "Carousel," "The Music Man," "My Fair Lady," "The Will Rogers Follies," "The King and I" and "The Sound of Music." Rick Hilsabeck -- Broadway's "Billy Elliot," "Chitty Chitty Bang Bang" -- has distinguished himself as an actor, singer, dancer and teacher for more than 30 years, starring on Broadway, in national tours and around the globe.
Eagle commented, "People of all ages have made 'Christmas Time' a Boston area tradition. Like other time-honored classics such as 'The Nutcracker,' 'A Christmas Carol,' and the 'Radio City Christmas Spectacular,' our production is eagerly anticipated by thousands of subscribers each year. With the addition of Sarah and Rick as special guests, this year's production will be even more memorable. Their voices are magnificent, and their performances have won them numerous awards throughout the country. Celebrating the true spirit of the season, 'Christmas Time' is going to be a glorious cup of Christmas cheer!"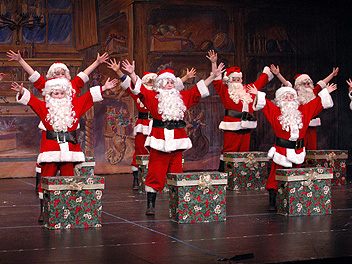 The company of nearly 40 adults and 150 children will treat audiences to a cornucopia of sights and sounds of the season. Perennial favorites include "The Parade of the Wooden Soldiers", performed by a bevy of precision tap dancers, and the inspirational "Living Nativity". A sonorous choir of 40 adult carolers presents a Victorian Christmas, and the City Sidewalks come alive with popular classics accompanied by a hand bell choir.
Once again Reagle will be collecting toys for the Waltham High School Student Santa Program at each performance of "Christmas Time." Patrons wishing to donate are asked to bring new, unwrapped toys suitable for boys and girls ages 6 months to 10 years. Students from Waltham High School will be present to collect donations in the Robinson Theatre lobby before each show.

The Student Santa program annually collects toys for more than 300 children living in Waltham. High school students collect, wrap, and distribute the toys, assigning them according to age and gender appropriateness. According to Stephen Goodwin, one of the faculty organizers of the program, a variety of affordable toys rather than one expensive item are desired so that each child may receive multiple gifts on Christmas day.

Goodwin commented, "We are thrilled that Reagle Music Theatre is joining in our effort again this year to provide toys for economically challenged families. Each year nearly 10,000 people attend 'Christmas Time.' If just one percent of those audience members bring toys, that's another 100 children who can share in the joy of the season."

This year the Student Santa program will be collecting toys beginning the weekend after Thanksgiving through December 21. Donations may also be dropped off at the Main Office of Waltham High School during school hours.
For information and tickets to "Christmas Time," call 781-891-5600 visit www.reaglemusictheatre.org.
Production Photos: Herb Philpott