"Arabian Nights"
From Nora Theatre & Underground Railway
At Central Square Theater
November 17 – December 31
The Nora Theatre Company and Underground Railway Theater will join for their first co-production when they present Dominic Cooke's adaptation of "Arabian Nights" from November 17 - December 31 at Central Square Theater. The production will be directed by The Nora's Associate Director, Daniel Gidron.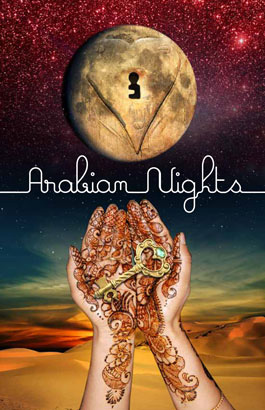 Persia's King Shahrayar, after being driven mad by his first wife's infidelity, brands all women unfaithful. He therefore takes a new bride every night, until he meets Shahrazad, who enchants him with her magical tales, winning his love and respect in the process. Based on One Thousand and One Nights, a collection of folk tales from the Middle East and Asia, "Arabian Nights" combines suspense, romance and hilarity. At its heart -- the power of the imagination an storytelling to heal, inspire and transform.
First presented at the Young Vic in 1998 as part of their holiday series, Cooke's adaptation of "Arabian Nights" has had successful national and international tours, including a run in New York City. For Arabian Nights," Cooke was honored with a 2000 Theater Management Association Award for Best Theatre for Children and Young People.
Envisioned with actors and puppetry at it's center and featuring the strong character of Shahrazad, this production offers the ideal opportunity for the collaboration of The Nora Theatre Company -- which has traditionally focused on the voice and power of the feminine -- and Underground Railway Theater -- with its history of award-winning epic storytelling using puppetry for adults and families. The stories will be told through acting, dance and puppetry; English, Arabic and American Sign Language; and music and visual art. The floor of the stage, for instance, will include a huge painting inspired by Persian miniatures and tapestries.
The cast includes Ramona Lisa Alexander, Paige Clark, Alexander Cook, Evelyn Howe, Elbert Joseph, Ahmad Maksoud , Ibrahim Miari, Vincent E. Siders and Debra Wise.
For tickets and information, stop by the box office at 450 Massachusetts Avenue in Cambridge, call 866-811-4111 or visit CentralSquareTheater.org.