Award-Winning Gordon Clapp
is Robert Frost
In "This Verse Business"
The season continues at Merrimack Rep with A. M. Dolan's "This Verse Business," an illuminating portrait of American poet Robert Frost. Told in Frost's folksy yet penetrating style, this one-man conveys poetry, wit and "promises to keep." Directed by Gus Kaikkonen, performances are set for October 20 – November 13.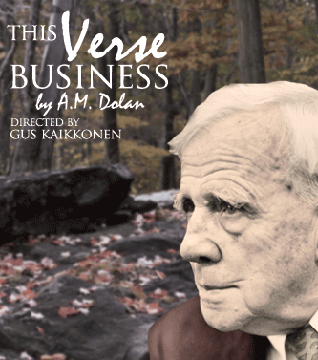 "This Verse Business" features Tony-nominated and Emmy Award-winning actor Gordon Clapp in his first appearance on Merrimack Repertory Theatre's stage. His performance on "NYPD Blue" as Detective Greg Medavoy won him a 1998 Emmy Award for Best Supporting Actor in a Drama Series. He also played instigator Dave Moss in the 2005 Tony Award-winning Broadway revival of David Mamet's "Glengarry Glen Ross."

On the unique opportunity of sharing the work of Robert Frost, Clapp commented, "I grew up in the White Mountains of New Hampshire. When I went away to school in Connecticut I took Robert Frost with me and he brought me home. Over thirty years ago I promised myself to bring him back to life on stage. When I stumbled upon Andy Dolan's wonderful script I knew the time had come. It will be particularly gratifying to perform the piece in Lowell, one town up river from Lawrence where Frost spent most of his boyhood. I look forward to working at Merrimack Rep. I've heard glowing reports from former company members and patrons alike. And I hope to meet many Frostaceans --- my affectionate name for those who knew or crossed paths with Frost at some point in their lives."

Dolan, who appeared in "The Front Page" at MRT in 2000, added, "I am thrilled that Merrimack Rep has chosen to produce my play this season. I never expected to return to MRT as a playwright, but I'm more than delighted to leave the onstage work this time to the incredibly talented Gordon Clapp. Not only does he conjure up Frost as the poet, but the wickedly witty platform performer as well. He's amazing."

A.M. Dolan lives in Falmouth with his wife Zoe Cardon. In addition to "This Verse Business," he has also written "Five Live Poets " and "In Country Heaven." "This Verse Business" received its world premiere last September at the Peterborough Players in New Hampshire. He has acted with the Old Globe Theatre, Huntington Theatre Company, Texas Shakespeare Festival, Wellfleet Harbor Actor's Theatre, Payomet Performing Arts Festival, New Rep, New Century Theatre and Stoneham Theatre among others.
Special Evenings For "This Verse Business"

Pay What You Can Night
October 20 at 7:30 p.m.
Patrons may purchase tickets in cash at the Box Office between 4:30 - 7:30 p.m. and name their ticket price. Following the performance, there will also be a Director's Forum, where the director and designers field audience questions and describe how the play was staged.
Lowell Night
October 22 at 8 p.m.
Lowell residents may purchase tickets for $10 at the box office from 5 - 8 p.m. Proper ID required.
Opening Night
October 23 at 7 p.m.
Audience members are invited to join Merrimack Rep's staff and cast after the show in raising a glass of champagne to celebrate the opening of the production.
Cookie Matinee
October 26 at 2 p.m.
Patrons are invited to enjoy complimentary cookies and coffee in the lobby before the show, courtesy of Brew'd Awakening Coffeehaus.
Post Show Forums
October 27, November 3 and November 10 at 7:30 p.m.
Audiences may stay following the performance to learn the inside scoop and chat with the actors.
For tickets and information, stop by the box office at 50 E. Merrimack Street in Lowell, call 978-654-4678 or visit MerrimackRep.org.