A Review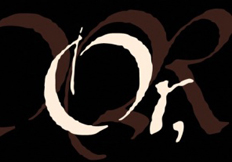 Either Or
By R. J. Donovan
The season at Lyric Stage continues with a sly and funny offering that comes with an unusual title. "Or," by Liz Adams Duffy, is a Restoration era comedy taking place in 1660 England with a tip of the hat and a bit of a wink to freelovin' 1960. Daniel Gidron directs.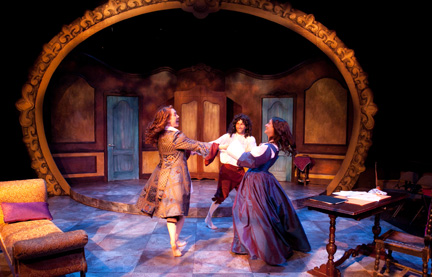 Inspired by history, Duffy's characters include the writer Aphra Behn, actress Nell Gwynne and King Charles II. After a warm welcome and a bit of a"turn off your cell phones" introduction from Stacy Fischer (who plays Behn), the houselights dim and our story begins in the shadows of debtor's prison. Behn is busy writing to the King seeking payment due her for spying services. If she could only pay her bills, get out of jail and get her life in order, she could write a play, become famous and finally achieve true respectability.
As the story unfolds and Behn tries to hone her writing, the characters hook up and pair off in a variety of minglings, both hetero and homo. Throughout, Duffy's language serves as yet another character of the show, effortlessly tossing off smart and creative thoughts on war and sex and peace that connect whether you're in 17th century England or 2011 just off Copley Square.
Fischer is the rebellious Behn throughout while Ro'ee Levi triples as King Charles (credited with reopening the theaters during the Restoration), William Scott -- Behn's former lover, presumed deceased -- and a jailer. Hannah Husband triples as Gwynne, dotty housekeeper Maria and local theater bigwig Lady Davenant.
Add two doors and a fairly large armoire for the characters to race in and out of, and you've got the makings of a zippy farce. Both Levi and Husband participate in (what we can only imagine to be) some carefully choreographed quick changes just out of audience view.
All three actors turn in remarkably bright performances, given the amount of dialogue they need to memorize and deliver at a good clip. Levi shifts accents nicely for his two roles, while Husband does such an effusive job with her non-stop monologue as Lady Davenant that spontaneous applause erupts upon her exit.
On a historic note, Aphra Behn (a feminist long before her time) was the first woman to write professionally for the theatre. Certainly she was one of the first women to earn her living as a writer, completing almost two dozen plays along with novels and poetry. The play's title, meanwhile, relates to spoofing the common practice of plopping an "Or" down in the middle of a title during the time period.
On the production side, designer Dahlia Al-Habieli's all-in-one setting includes an interesting stretched gilded archway, reminiscent of yawning "O," through which the story emerges.
In the end, while Duffy's script often sparkles, it also drags a bit here and there. However, the performances are razor sharp, delivered with a confidence and shine that one usually sees only after a much longer run.
"Or," is at Lyric Stage Company of Boston through November 6. For information, call 617-585-5678.
Production photo: Mark S. Howard
-- OnStage Boston