Varla Jean Merman
Makes SpeakEasy Debut
In Irreverent Homage
"The Divine Sister"
From October 21 - November 19, SpeakEasy Stage will present the New England Premiere of the hit Off-Broadway comedy "The Divine Sister." Performances will take place in the Stanford Calderwood Pavilion at the Boston Center for the Arts, located at 527 Tremont Street in Boston's South End.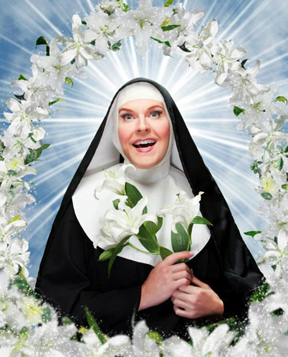 Written by Charles Busch, the comic genius behind such classics as "Die, Mommie, Die," "Psycho Beach Part" and "Vampire Lesbians of Sodom," "The Divine Sister" is an inspired homage to every Hollywood film ever made about nuns. The gleefully twisted tale tells the story of an indomitable Mother Superior trying to cope with, among other things, a young postulant experiencing "visions," a sensitive schoolboy in need of mentoring, a mysterious nun visiting from Berlin, and a former suitor intent on luring her away from her vows.
Norton Award winner Larry Coen will direct the production featuring Christopher Michael Brophy, Sasha Castroverde, Ellen Colton, Paula Plum and Kathy St. George.
Also in the cast, making his SpeakEasy debut, is Jeffery Roberson (aka Varla Jean Merman, above). A 2010 Norton Award winner for his work in "Phantom of the Oprah," Mr. Roberson has performed solo shows as Varla Jean Merman around the globe. He has also appeared on Broadway as Mary Sunshine in "Chicago," and in the recent Off-Broadway production of "Lucky Guy" opposite Leslie Jordan. Mr. Roberson's extensive TV credits include appearances on "Ugly Betty" and "Project Runway." He is also has a new film out this fall, a "mockumentary" called "Varla Jean and the Mushroom Heads."
"The Divine Sister" opened Off-Broadway at the SoHo Playhouse in September of 2010. The production was directed by Carl Andress and featured playwright Charles Busch as The Mother Superior along with Alison Fraser, Julie Halston, Amy Rutberg, Jennifer Van Dyck and Jonathan Walker. The show was nominated for two 2011 Drama Desk Awards: Outstanding Actor in a Play (Charles Busch) and Outstanding Featured Actress in a Play (Julie Halston). Charles Busch also received a nomination from the Drama League Awards for Distinguished Performance.
Busch is the author and star of such plays as "The Lady in Question,"" Red Scare on Sunset" and "Vampire Lesbians of Sodom," which ran five years and is one of the longest running plays in Off-Broadway history. His play "The Tale of the Allergist's Wife" ran for 777 performances on Broadway and won Mr. Busch the Outer Critics Circle John Gassner Award and received a Tony nomination for Best Play. He wrote and starred in the film versions of his plays "Psycho Beach Party" and "Die, Mommie, Die," the latter of which won him the Best Performance Award at the Sundance Film Festival. In 2003, he received a special Drama Desk Award for career achievement as both performer and playwright. Mr. Busch made his directorial debut with the film "A Very Serious Person," which premiered at the 2006 Tribeca Film Festival, where it won an honorable mention. He is also the subject of the documentary film "The Lady in Question is Charles Busch."
Larry Coen received a 2010 Elliot Norton Award for directing "Phantom of the Oprah" for Gold Dust Orphans. Additional directing credits include "The Understudy" (Lyric Stage); "Ruthless!" (SpeakEasy); "Twilight Zone" and "Willie Wanker and the Hershey Highway" (co-directed with James Byrne) for The Gold Dust Orphans; "Shel Shocked" by the late Shel Silverstein (Market Theatre); "MLK: We Are The Dream" (American Place Theatre); "FAX of Life" for Manhattan Punchline. With David Crane, Larry wrote the Broadway comedy "Epic Proportions." Larry is Artistic Director of City Stage Company, which provides free arts education programs and performances for low-income children and families.
For information, call 617-933-8600 or visit www.BostonTheatreScene.com.
Photo: John B. Barrois and Rex Bonomelli