Kander & Ebb's "Curtains
At Boston Conservatory Theater Ensemble
The Boston Conservatory Theater Ensemble will present "Curtains," the set-in-Boston send-up of backstage murder mysteries, October 20 - 23 at The Boston Conservatory Theater, 31 Hemenway St., in Boston's Fenway neighborhood.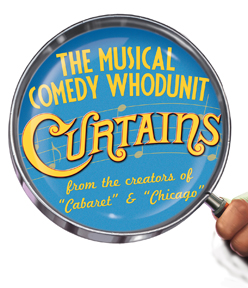 With a book by Rupert Holmes, original book and concept by Peter Stone, music by John Kander, lyrics by Fred Ebb and additional lyrics by John Kander and Rupert Holmes, the production will be directed by David Gram with choreography by Michelle Chassé.
The musical comedy whodunit unfolds when the painfully untalented star of a troubled Broadway try-out, dies during her curtain call on opening night in Boston. With the entire company under suspicion as murder suspects, Lt. Frank Cioffi of the Boston Police Department is called in to solve the homicide. Believing that the perpetrator is still in the theater, he sequesters everyone.
Trapped and with plenty of down time on their hands, the company attempts to make the best of it and try to solve the show's inherent problems. Meanwhile, the Lieutenant, an amateur actor, becomes as involved in saving the struggling musical as he is in solving the heinous crime. This is all set in 1959 at Boston's own Colonial Theatre.
The original Broadway production opened at the Al Hirshfeld Theatre in 2007, with a cast featuring David Hyde Pierce and Lt. Cioffi along with Debra Monk, Karen Ziemba and Jason Danieley. "Curtains" was one of Freb Ebb's final projects before his death.
Toronto native David Gram is currently a Boston-based director, actor, and teacher. His directing credits include "The Theatre of the Grand Guignol," "The Scarlet Letter," "A Little Night Music" (with Boston Opera Collaborative), "The Good Person of Szechwan," "Lord of the Flies," "What the Butler Saw," "Bug," "Yank," "A Man of No Importance," "Waiting for Godot," "Tartuffe," "Twelfth Night," "The Maids," and the musical "City of Angels." As an actor, he was most recently seen in the Boston Center for American Performance productions of David Rabe's "A Question of Mercy" and playing 40 different characters in the one-man show "I Am My Own Wife."
For information and tickets, call 617-912-9222 or visit bostonconservatory.