---

Truth Is Funnier Than Fiction In
"Celebrity Autobiography"
At Lyric Stage Company
One Night Only - October 17
It started in New York and became one of the most sought-after "tongue in cheek" tickets in town. Now "Celebrity Autobiography" comes to Boston, specifically to Lyric Stage Company of Boston, for one night only -- October 17.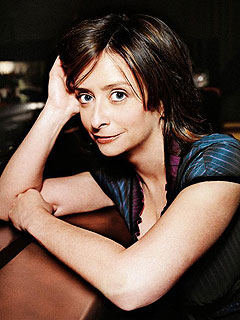 Presented in association with Angelo Fraboni, Peter Martin, Rick Newman, Eugene Pack, and Dayle Reyfel, the evening of readings will feature: "Saturday Night Live" star and Lexington native Rachel Dratch (at left) along with Boston and Lyric Stage favorites Larry Coen, Timothy John Smith, Kathy St. George plus "Celebrity Autobiography" creators Eugene Pack and Dayle Reyfel.

"Celebrity Autobiography" gives audiences the chance to experience a variety of jaw-dropping, self-involved vignettes torn straight from the pages of the most unforgettable celebrity tell-alls. From the "he said-she said" accounts of Burt & Loni to the Britney Spears diary, Mr. T's acting tips, the "poetry" of Suzanne Somers, Justin Bieber's backstage confessions, the re-enactment of Tommy Lee and Pamela Anderson's courtship and the most famous Hollywood love triangle in history -- Elizabeth Taylor, Debbie Reynolds and Eddie Fisher.

The most delicious part is that it's all in their own words, proving that truth really is funnier than fiction. The actual readings on October 17 will be announced from the stage that night.

Running for three sold-out years in New York "Celebrity Autobiography" won the 2009 Drama Desk Award in the category of Unique Theatrical Experience and the 2010 Bistro Awards.

Having grown up in Lexington, Rachel Dratch graduated from Dartmouth College with a degree in Drama and Psychology. She then moved to Chicago where she studied with Del Close at Improvolympic. She went on to tour with the Second City Touring Company and eventually advanced to the Second City Mainstage. After leaving the Mainstage, she wrote and performed in the two-person sketch show "Dratch and Fey" with Tina Fey. In the fall of 1999, Rachel joined the cast of "Saturday Night Live" where she performed for seven years. Her memorable characters include Boston teen "Denise," the "Lovers" professors with Will Ferrell, junior high school student "Sheldon," and the always dreary "Debbie Downer." (As a fun side fact, Larry Coen was Rachel Dratch's teacher when she was at Chapel Hill - Chauncy Hall School in Waltham).
Lyric Stage will present additional editions of "Celebrity Autobiography" during the 2011-12 season. Dates and cast members will be announced in the months ahead.
For tickets and information to the October 17 event, stop by the Lyric box office at 140 Clarendon Street, call 617-585-5678 or visit www.lyricstage.com.