ArtsEmerson Opens Second Season
With World Premiere Of
"How Much is Enough: Our Values in Question"
New York's The Foundry Theatre
Developed "Audience Performance Company"
By Involving Audiences From Development Through Performances
The second season of international theatre programming from ArtsEmerson: The World On Stage will open with an innovative production which the audience has helped shape.
The world premiere of The Foundry Theatre's "How Much is Enough: Our Values in Question" explores the fundamental concepts of value -- quantitatively through relationships to money and qualitatively by asking people what they hold dear. Performances take place September 13 – 25 at The Jackie Liebergott Black Box at the Paramount Center, 559 Washington Street in Boston's Theatre District
Foundry Artistic Producer Melanie Joseph and playwright Kirk Lynn (whom ArtsEmerson audiences may remember as Co-Producing Artistic Director of Rude Mechs, whose "The Method Gun" was an audience favorite last season) are making a new theatrical piece exploring the concept of "value."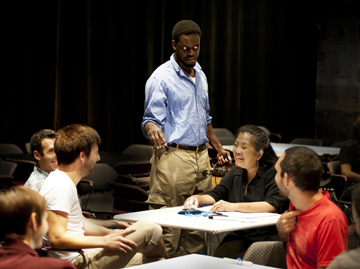 The play itself is built out of questions posed by performers to audience members about how they've lived their lives, what plans they've made for the future and what advice they can offer as we all attempt to create lives of value. These talk-show style questions are posed to the audience, who are seated around tables. The questions (which loosely follow a human lifecycle and examine how notions of "value" change throughout life) and the subsequent answers make up the evening's performance.
The Foundry has been developing this play over the past year by meeting with and asking questions of all different groups of people throughout New York City, Austin, Texas and Boston. From these gatherings, they are creating the first "audience performance company" by inviting audiences into every moment of the development and rehearsal process, so that each performance's audience helps deepen the inquiry and find the structure of this unusual interactive theatrical event.

According to Lynn, "This is an attempt to listen to the dramatic moments in each other's lives -- when he bought a house, when she went back to school, when they got divorced, when we all ran out of money in Amsterdam and didn't know how to get back home."
Foundry Theatre productions have been critically recognized and honored with 10 Obie Awards and three Drama Desk nominations. In 2000, The Foundry received the Ross Wetzsteon Obie Award and most recently the national Peter Zeisler Award in recognition of "innovative practice and dedication to freedom of expression."

ArtsEmerson Executive Director Rob Orchard commented, "I wanted to open our second season with something groundbreaking and fun, and what better theatre to partner with than The Foundry out of New York. The experience will change with every performance because the 'dialogue' isn't scripted. Rather, it comes from the hearts and minds of the audience. The atmosphere is relaxed and communal. People will be asked to participate only at a level that suits them. There's a theatrical body in place to provide the overall shape and profile, but the guts, organs, nervous system and funny bones will be supplied by the audience."

The production is recommended for ages 13 and up.
For tickets and information, call 617-824-8400 or visit www.artsemerson.org.
Photo: Paul Marotta