A Review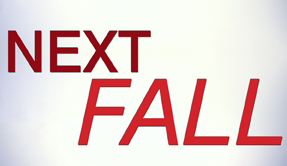 A Leap Of Faith
By R. J. Donovan
What do you believe? How strongly do you believe it? And how does it inform your choices in life? That's the question to be pondered in "Next Fall," the moving gem of an urban comedy that's kicking off the season at SpeakEasy Stage Company.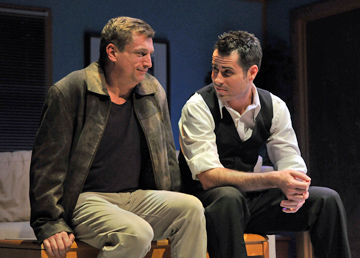 Written by Geoffrey Nauffts, "Next Fall" takes a very realistic look at Adam and Luke, a gay couple in New York. Luke is extremely religious. Adam is the exact opposite. He questions the very existence of an almighty power let alone an afterlife. (The characters having Biblical names is no coincidence.)
As a devout Christian, Luke feels that "believing" is the only way to heaven. As Adam does not believe (in anything, let alone Jesus Christ), Luke fears his partner is headed for eternal damnation.
Luke also believes, as his religion dictates, that sex between men is a sin. However, he still happily partakes -- he just prays after committing the act. And while he's rock solid in his beliefs, he's hesitant to let others know of his convictions for fear of being ridiculed. We soon see that, in order to avoid treacherous territory, Luke simply moves the line rather than cross it.
While this clash has swirled throughout the four years the pair has been together, a crisis brings it all to a dramatic vortex when Luke is involved in a life-threatening accident.
Nauffts has created a smart and extremely funny piece. And while it may initially exude a very sharp sitcom feeling, it soon blooms with a depth and insight that's almost heartbreaking. (Some of the bittersweet references to "Our Town" will indeed crush your heart.)
As a sort of memory play, the story opens in the emergency room, introducing us to a handful of characters who slowly reveal themselves through conversation. For the rest of the evening, the format takes on a cinematic feel as the story gently slides back and forth from the present into the past to provide a glimpse into pivotal moments in the history and interactions of the characters.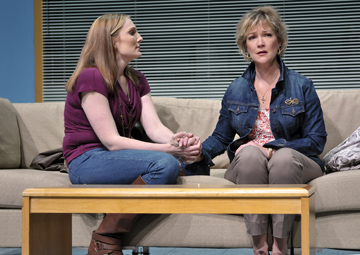 At first we're not even sure who's actually been brought to the hospital. We first meet Holly, clearly a friend of the victim, but related how? Then there's Arlene, the Chatty-Cathy of a mother in a denim jacket, who has no problem talking -- about anything and everything. And there's Brandon, who proves to be a bit of a mystery until a stark conversation late in the second act. Plus, Butch, an appropriately named homophobe, who's Arlene's ex-husband.
Luke, it turns out, is the accident victim. Adam, his partner, rushes to the hospital from an out of town trip. Complications surface beyond the emergency because Luke has never come out to his parents. So when this crisis draws all the disparate players together, Adam is left in an emotional lurch, facing obstacle upon obstacle.
First, he can't be by his partner's side because, in the hospital's eyes, he's not family. And while he could explain to Luke's parents that he actually is family, doing so would out Luke and violate his partner's wishes to reveal his sexuality on his own terms and his own time table -- which is running out.
As the story starts to unfold with shadows of the past, we see Adam and Luke at their first meeting. Adam's a guest at a party and Luke is a good-looking cater waiter who gives him the Heimlich. Luke is younger than Adam, but far from a pretty boy. Still, Adam is clearly smarter and sharper. He's also a hypochondriac. We see their relationship grow. And we see their relationship challenged, all in snapshots that provide insight into how they got to the present. And all as the clock in the hospital ticks by.
Director Scott Edminston gives the evening the authenticity of a conversation. He guides with a gentle hand that allows the humor to crackle while also giving the heartbreaking moments room to swell. (The scene where Adam and Butch share a couch provides a laugh-out-loud moment just from the visual of the two gentlemen sitting down).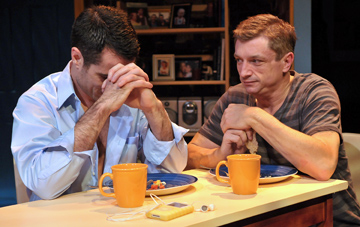 The cast he's assembled couldn't be much better. Will McGarrahan (on the right) is Adam. A master at tossing off a withering zing as easily as crushing your heart with a look of betrayal, he delivers a performance that's beautifully shaded and very real.
The character of Luke is a challenge as he balances secrets while taking a superior tone. Dan Roach (above, with McGarrahan) is great as the younger guy in the relationship who remains firm in his convictions until he sees a reason to hide. Which happens when his father makes an unannounced visit to the Manhattan apartment he shares with Adam. Luke madly tries to "de-gay" it of any evidence of who he really is as well as his relationship with Adam. It's all very funny at first, but Roach flips it to tragedy when Luke is suddenly and sadly caught in the headlights.
It's also interesting to see Roach play the younger (and perhaps, freer spirit) of the two as the one who maintains the staunch religious center, while the older, wiser, more settled partner rejects it all.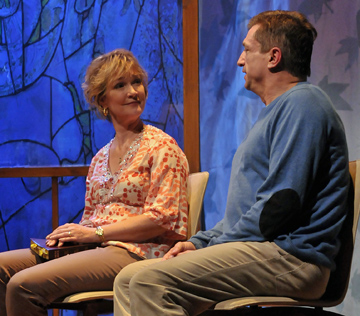 Amelia Broome (at left) is Arlene, the breezy Mom with the southern drawl. SpeakEasy audiences will remember her from her brilliant turn in "Light In The Piazza" a few seasons back as well as in "The Adding Machine." Here, she has a deliciously (and deceptively) easy way with a funny line, but there's so much more to her performance. In a touching scene with Adam in the hospital's Chapel, Broome says as much with the silence of her eyes as she does with her dialogue.
As Butch, the stiff, stubborn, homophobic, tough-guy, Robert Walsh is so believable that you want to give him a smack. He's the guy in charge, first, last and always. But how much does he really know? Or want to admit?
Holly, as played by Deb Martin, is far more than the stereotypical neighbor next door who arrives to crack-wise and then exit. As the candle shop owner who employs first Adam and then Luke, Martin sketches a sincere portrait of a loving, supportive friend who sometimes finds herself at arm's length.
And as Brandon, Kevin Kaine has to arouse and maintain audience interest until we finally find out how he fits into Luke's life. And when we do, Kaine reveals Brandon's hidden portrait with an intensity that makes you reflect on the secret he's been sitting on all throughout three quarters of the show.
We all believe in and of different things, religious and otherwise. While often hysterically funny, the beautifully written "Next Fall" is also very subtle. Which in turn makes you think. And feel. Which you will do long after the final curtain.
"Next Fall" from SpeakEasy Stage, is at the Calderwood Pavilion at the Boston Center For The Arts, 527 Tremont Street, through October 15. 617-933-8600.
-- Production Photo: Craig Bailey/Perspective Photo
-- OnStage Boston