---

Lorenzo Lamas in "The King & I"
At North Shore Music Theatre
September 27 – October 9
North Shore Music Theatre in Beverly will transport audiences back to 1862 Siam when it presents the timeless Rodgers and Hammerstein classic, "The King and I." Set to star Lorenzo Lamas (below) as The King of Siam, the production will play September 27 – October 9.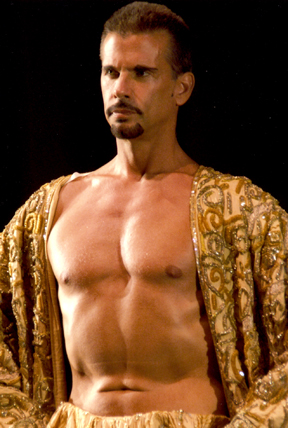 This captivating treasure of wills, wits and wisdom has been enchanting audiences for almost 60 years. Set against an exotic background, "The King and I" is the moving, true story of Anna, a young English widow, who travels with her son to Siam to tutor the children of the King.
In Siam, she encounters an unfamiliar world of grand beauty mixed with rigid Old World traditions. As the King decides how to bring his country into a new age, he and Anna begin to see beyond traditions and prejudices into what makes people special and what makes a man a true king.
The lush Rodgers and Hammerstein score includes "Getting to Know You," "Shall We Dance?," "I Whistle A Happy Tune" and "Hello, Young Lovers," among others.

"The King and I" will star international film, television and stage actor and singer Lorenzo Lamas as the King of Siam. With more than four decades in the entertainment industry, Lorenzo is perhaps best known for his nine year run as Lance Cumson on "Falcon Crest," and his five year run as Reno Raines on "Renegade." His stage roles include Zach in "A Chorus Line," Dracula in "Dracula," and El Gallo in "The Fantasticks," in which he was directed by Tom Jones, the show's writer.

Kate Fisher,who will play the role of Anna, has starred as Cosette in the Broadway production of "Les Misérables" and originated the role of Jo March in the national tour of "Little Women." Kate will be joined on stage by Joshua Dela Cruz, Mel Sagrado Maghuyop, Manna Nichols, Ron Wisniski and Brookline resident Lisa Yuen. "The King and I" also features two local young performers, Gloucester resident Jack Favazza as Anna's son Louis and Methuen resident Ellis Gage as the Prince

The ensemble includes Karl Josef Co, Lynn Craig, Jan Javier, Anna Laghezza, Paul HeeSang Miller, Rommel Pierre O'Choa, Rumi Oyama, Marcus Shane, Laura Yen Solito, Sai Somboon, Maxine Stewart, Jee Teo, and Tiffany Toh.

Rounding out the cast will be 8 local young performers: Beverly residents Nekhebet Juch and Uatchet Juch, Middleton resident Kendall Klipper, Needham residents Alana Tow and Mikayla Tow, Revere resident Brandon Barbosa, Salem resident Elizabeth Pasquale and Wenham resident Abby Spinney.

Richard Stafford returns to North Shore Music Theatre to direct and choreograph "The King and I." His previous hits at NSMT include "Crazy for You," "Singin' in the Rain," "Fame," "Swing!" and "Cats."

Additional Free Audience Enrichment events include:
Meet the Theatre
October 4 following the 7:30 pm performance.
October 8 following the 2 pm performance.
Join a post-show audience discussion with the artists.
OUT at the North Shore
October 6 following the 7:30 p.m. performance.
An evening for the Gay and Lesbian Community with a post-show reception (sponsored in part by Ryan & Wood Inc. Distilleries and Sparkling Soirées).
For tickets and information, stop by the box office at 62 Dunham Road in Beverly, call 978-232-7200 or visit www.nsmt.org.