---

New Rep Presents
Margulies' Collected Stories"
New Repertory Theatre, in residence at the Arsenal Center for the Arts, will present "Collected Stories," by 2000 Pulitzer Prize playwright Donald Margulies, from October 9 - 30 in the Charles Mosesian Theater.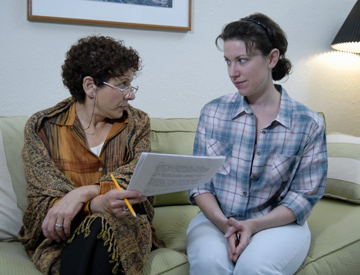 In "Collected Stories," Ruth Steiner, a critically acclaimed, seasoned author, takes student, Lisa, under her wing. What begins as a mentorship flourishes into a deeper maternal friendship. When Lisa becomes a much-admired published writer and uses Ruth's secretive life story for her own novel, the balance of power shifts and the boundaries of their relationship is called into question. Pulitzer Prize-winning playwright Donald Margulies challenges audiences to ask the questions: Does your story belong to you? Does someone else have the right to tell your story?
Directed by Bridget Kathleen O'Leary, the cast features New Rep favorite Bobbie Steinbach ("Darling Divas Deck the Holidays," "The Clean House," "Stonewall Jackson's House") as Ruth and introduces Liz Hayes to the New Rep stage as Lisa.

Harriet Sheets, Managing Director, New Repertory Theatre, commented, "Margulies' brilliant exploration of the dynamic relationship between a mentor and her mentee, and how the balance of power shifts between these two characters, is sure to enthrall our audience."

O'Leary added, "I am really looking forward to delving into this process and exploring these incredibly complex, beautiful characters . . . I am most fortunate to work with Liz Hayes and Bobbie Steinbach, two exceptional actors who I've had the great privilege to follow over the past several years. I am also really excited to work with this design team. They will bring Marguiles' world to life in a way that I think our audiences will find rich and compelling."

Donald Margulies received the 2000 Pulitzer Prize for Drama for "Dinner with Friends." His many plays include "Time Stands Still," "Shipwrecked! An Entertainment --The Amazing Adventures of Louis de Rougemont (As Told By Himself)," "Brooklyn Boy," "Sight Unseen," "God of Vengeance," "The Loman Family Picnic" and "What's Wrong with This Picture?" among others. "Dinner with Friends" was made into an Emmy Award-nominated film for HBO, and "Collected Stories" was presented on PBS. Currently, he is adapting the novel Middlesex by Jeffrey Eugenides into an HBO miniseries.
For tickets and information, stop by the box office at 321 Arsenal Street in Watertown, call 617-923-8487 or visit www.newrep.org.
Photo: McKenzie Theatrical Photography