"Steel Magnolias"
At Stoneham Theatre
September 15-October 2, 2011
Stoneham Theatre kicks off its fall season with "Steel Magnolias" from September 15-October 2. Written by Robert Harling, the production is directed by Paula Plum. Stoneham Theatre is located at 395 Main Street in Stoneham.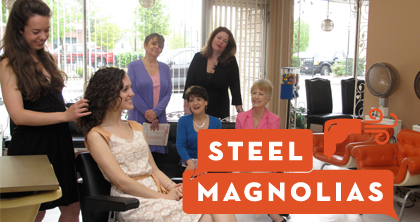 Set in a local beauty salon in Natchitoches, Louisiana, "Steel Magnolias" stars Sarah deLima (as Clairee Belcher) and Kathy St. George (as M'Lynn Eatenton), with Lydia Barnett-Mulligan (as Annelle Dupuy-Desoto), Kerry Dowling (as Truvy Jones), Marie Polizzano (as Shelby Eatenton-Latcheri), and Sheriden Thomas (as Ouiser Boudreaux). Together, they are the tough "steel magnolias" who face life's uncertainties with wit and courage.
The play begins on the morning of Shelby Eatenton's wedding day. She joins her mother and her mother's outrageous friends -- including the lovable curmudgeon Ouiser and small-town grande dame Clairee -- in Truvy's Beauty Parlor to get her hair done and begin celebrating her new life. (No matter that the beauty parlor is in a converted carport and the din of hair dryers can get pretty loud.) The story then proceeds to cover a span of three years, all under the watch of Truvy's tight knit regulars.

Award-winning actor Paula Plum occasionally ventures over to take over the director's chair. Her past directing credits include "The Blue Room" (SpeakEasy [workshop production]), "Pillowman" (UMass/Lowell), "Jakes' Women" (Merrimack Rep), "Lone Star/Laundry & Bourbon" (Alley Theatre), "Lady & the Clarinet" (New Ehrlich), "Baltimore Waltz" (Lyric), and "Tell Me On A Sunday" (Stuart Street Theatre). As Boston theater fans know, her acting credits on stage and screen are extensive.
Robert Harling wrote the play in response to a real-life crisis in his own family when his younger sister, a diabetic, died. Beginning as a short story, the piece was expanded into a full-length play which opened off-Broadway in 1987. All the action takes place in Truvy's beauty shop.
A blockbuster film version followed in 1989 starring Sally Fields, Dolly Parton, Shirley MacLaine and Julia Roberts. The film, actually shot in Natchitoches, expanded the story somewhat to include male characters and incidents outside of the shop. Harling also wrote the screenplays for "Soapdish" and "First Wives Club," among others.
The play was mounted on Broadway in 2005 starring Delta Burke, Christine Ebersole, Frances Sternhagen and Marsha Mason.
Stoneham Savings Bank is sponsoring this production of "Steel Magnolias" and the Melrose Cooperative Bank is the sponsor for the special Pay-What-You-Can Thursday performance (September 15).
Additional events related to the production:
Talkback Session:
Sunday, September 18, following the 2 p.m. matinee.
Join the full creative team in a lively discussion of this fun but challenging play.
Steel Magnolias Workshop:
Saturday, September 24, 1:00-2:30 p.m., prior to the 3 p.m. matinee.
The young company at Stoneham Theatre is offering an acting workshop using materials that directly relate to the production of "Steel Magnolias." All workshop participants will then have the opportunity to attend the 3 p.m. matinee. Recommended age for participants: grades 10-12 (grades 7-9 with parental permission). Limited to 20 students. The $25 per person fee includes a student ticket to the show. Further information can be obtained by contacting Laura Smith, Education Assistant, 781-279-7885 x114.
For tickets and information, stop by the Box Office, call 781-279-2200 or visit www.stonehamtheatre.org.