Lyric's Summer Teen Theater
Presents "Allegro" & "As You Like It"
Lyric First Stage, Lyric Stage Company of Boston's intensive 5-week summer theater training program for teens, has returned for its seventh season.
Led by actor and director Peter A. Carey, Lyric First Stage 2011 will present public performances of Rodgers and Hammerstein's "Allegro" and William Shakespeare's "As You Like It," in repertory from August 10-14, 2011. Lyric Stage is located at 140 Clarendon Street, just off Copley Square in Boston.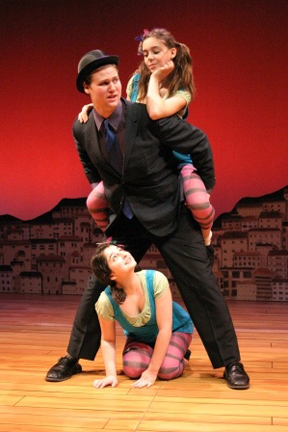 Lyric First Stage's mission is to create an environment where a company of teens works with professional mentors, explores ideas through text, music and movement, and refines their confidence and artistry in a series of workshops and a repertory theater production experiences. Lyric First Stage offers participants experience in both acting and stage management. The 2011 program includes 21 teenagers from over a dozen Massachusetts communities.
Lyric First Stage workshops include the areas of musical theater and Shakespeare, focusing on group ensemble work, musical theater, text interpretation, scene work, song interpretation, audition workshop, musical sight reading and stage management.
The philosophy of the program is that the infectious fun of a musical is brought into the process of working on Shakespeare -- and the precision of the beautiful in one of Shakespeare's play is realized in the musical. Both are celebrations of language and relationships, and participating in one makes the other stronger.
The summer schedule of performances includes:

August 10 - 13
Rodgers & Hammerstein's
"Allegro"
Music by Richard Rodgers
Book and Lyrics by Oscar Hammerstein II
Directed by Leigh Barrett
Musical Director, Jonathan Goldberg
Choreographer, Carolyn Breton
This intriguing musical begins in 1905 on the day Joseph Taylor, Jr. is born and follows his life until his thirty-fifth year. Radical when it was written in 1947, "Allegro" makes important use of the ensemble singing of the chorus, which sometimes acts as a Greek Chorus, complementing and commentating on the action between the characters in the play, sometimes moving into the action as a conventional chorus, and sometimes augmenting the dance episodes of the score.
August 11 - 14
"As You Like It"
By William Shakespeare
Directed by Peter A. Carey
"As You Like It" follows its heroine Rosalind as she flees persecution in her uncle's court. Accompanied by her cousin Celia and Touchstone the court jester, she finds safety and love in the Forest of Arden. The play features one of Shakespeare's most famous speeches -- "All the world's a stage" -- and is the origin of the phrase "too much of a good thing."
Program Director Peter A. Carey is a professional actor, director and performing arts educator. He is also on faculty at The Boston Conservatory. The recipient of the Connecticut Circle Award for Best Actor in A Musical for his role as John Adams in "1776" at the Goodspeed Opera House, he also earned the IRNE Award for Best Actor in a Musical as John Adams in "1776" at The Lyric Stage Company. Other Lyric credits include "Follies" (IRNE nomination), "Arms and the Man," "Urinetown: The Musical," "Shakespeare in Hollywood," "When Pigs Fly," "SideShow" (IRNE nomination), "Sunday in the Park with George," "The Lisbon Traviata," and "Assassins." His directing credits include "Much Ado About Nothing" (Wellesley Summer Theatre), "The New Moon" and "The Merry Widow" (New England Light Opera), "Arsenic and Old Lace" and "Dirty Blonde" (The Company Theatre), "The World Goes 'Round" (The Lyric Stage Company), "Nine" (The Publick Theatre), and "As You Like It" and "Coriolanus" (Project Theatre).
For information and tickets, call 617-585-5678 ore visit www.lyricstage.com.