---

2011-2012 Season
At Whistler in the Dark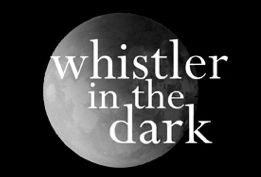 Celebrating its seventh anniversary, Whistler in the Dark Theatre has unveiled the line-up for its 2011-2012 season, set to include two month-long festivals celebrating the work of some of Britain's most-enduring playwrights, a modern tragi-comedy exploring the immediate aftermath of the attacks on the twin towers and a new translation of one of the great ancient plays.
The 2011-2112 Season includes:

"Double, Double Toil and Trouble"
(A Witches' Brew of Shakespeare Remixed)
October 27 - November 19
Boston Center for the Arts Black Box Theatre
Whistler and imaginary beasts, two of Boston's leading small theatre companies, will explore wildly different re-inventions of the Bard. Whistler presents Tom Stoppard's linguistic wizardry "Dogg's Hamlet, Cahoot's Macbeth" in repertory with imaginary beasts' production of Ionesco's "Macbett."

"Wanted Something "
(A celebration of the works of Caryl Churchill)
January 18th - February 4th, 2012
The Factory Theatre
This three-week celebration features two productions of one of Britain's most acclaimed and enduring dramatists. The rarely-produced "Fen" explores the longing for a better life in a community of farmers. "A Number" is an emotional shockwave that examines both the complicated bonds of the father/son relationship and the implications of cloning at the most human and personal level. The festival will also include staged-readings of other Churchill works.

"Recent Tragic Events"
March 8 - 24, 2012
The Factory Theatre
Craig Wright's 2003 play examines the events of September 11, 2001, through the lens of a blind date taking place on September 12. This tragi-comedy is a thought-provoking whirlwind about fate and the seemingly random connections we make in life. And there's a sock puppet.

"Trojan Women"
May 17 - June 2, 2012
The Factory Theatre
In Francis Blessington's new translation of Euripides' masterpiece, the women of the fallen city of Troy await their fates in camps. A testimony to the strength of the human spirit.

Artistic Director Meg Taintor commented, "For our seventh year, we are expanding both the scope and breadth of our season. Our season has grown from three to five mainstage productions, with two more Encore productions which will be announced later in the season. Most exciting is the festival nature of the first two events of the season – our rep month with imaginary beasts in October and our celebration of Caryl Churchill in January."

Joining Whistler for its seventh season are three guest directors. Bridget Kathleen O'Leary ("Recent Tragic Events") returns after her work on "Aunt Dan and Lemon," while Jason King Jones ("A Number") and Benjamin Evett ("Trojan Women") join the company for the first time.

Memberships and FlexPasses to Whistler's 2011 - 2012 season are now available online. Subscription options offer full access to the artistic process, including open rehearsals and member-only events, as well as deeply discounted tickets and Anyone Can Whistle bring-a-friend passes. For details, click here.