Orfeo Group Sings
Kolvenbach's "Love Song"
At Charlestown Working Theater
From August 4 - 27, Orfeo Group will present the Boston premiere of John Kolvenbach's 2007 Olivier Award-winning play "Love Song" as part of the Charlestown Working Theater's Resident Artists Program. Charlestown Working Theater is located at 442 Bunker Hill Street in Charlestown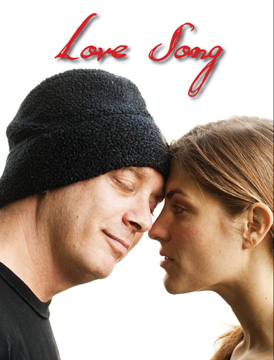 In "Love Song," Beane is alone, an exile from life. His sister Joan and brother-in-law Harry try to reach him but keep coming up short. Following a burglary at Beane's apartment, Joan is baffled to find her brother blissfully happy and tries to unravel the mystery behind his new love, Molly. An ode to the possibilities of love, John Kolvenbach's comedy celebrates the (re)emergence of love in (un)likely places and (un)expected ways.
Orfeo's Artistic Director Risher Reddick directs the production, which features a quartet of Orfeo Group founders and favorites: Daniel Berger-Jones, Liz Hayes, Gabriel Kuttner, and Georgia Lyman. All four actors are members of Actors' Equity Association and "Love Song" marks Orfeo Group's first full AEA production.
Orfeo Group is the recipient of two Elliot Norton Awards for Outstanding Fringe Production for "Look Back in Anger" in 2009 and "The Complete Works of William Shakespeare (Abridged)" in 2010.
Playwright John Kolvenbach is also the author of "on an average day," "Gizmo Love," "The Gravity of Means," and "Fabuloso." His plays have received productions at the Comedy Theatre in London's West End, Steppenwolf Theatre Company, MCC Theater in New York, Wellfleet Harbor Actors Theater and Merrimack Repertory Theatre.
As in 2010, Orfeo Group will continue its "extension programming" surrounding the production. In addition to a cash bar available before and after every performance, Friday night is "Date Night" with love-themed treats available. Saturday night is "Saturday Surprise" with special goodies for the audience. Sunday matinees will feature a post-show picnic, and featured performances will be followed by "Upstairs at the Firehouse," showcases of work other companies and friends of Orfeo Group. Hopelandic Theatre Company brings their new dance theatre piece "Into the Fog" to the upstairs space on August 18, 19 & 21 at 10 p.m. Additionally, thanks to the generosity of local donors, Thursday nights mark the return of the "OR-FREE-O" show and are presented free of charge.
For information and tickets, call 866-811-4111 or visit www.orfeogroup.org.