Boston Playwrights' Theatre
2011 - 2012 Season
Celebrates 30 Years With New Plays
Boston Playwrights' Theatre will celebrate its 2011 - 2012 season with a series of new plays, including a collaboration with Suffolk University and two pieces by recent graduates of Boston Playwrights' Theatre's MFA Playwriting Program.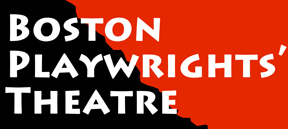 Productions will be presented at both the newly opened Modern Theatre at Suffolk University (525 Washington Street) and at Boston Playwrights Theatre's home at 949 Commonwealth Avenue. Subscriptions and individual tickets are available now for all productions.
The 2011 - 2012 Season includes:
September 15 – October 2
"Mortal Terror"
By Robert Brustein
Directed by Daniela Varon.
Produced in collaboration with Suffolk University
The Modern Theatre
National Medal of Arts winner Robert Brustein brings the spirit of William Shakespeare back to the stage in an imaginative story of political upheaval set during the ignition of the Gunpowder Plot. Featuring Stafford Clark-Price as William Shakespeare, together with Ken Cheeseman, Michael Hammond, Jeremiah Kissel, John Kuntz, Georgia Lyman, Christopher James Webb.
September 29 – October 23
"The Farm"
By Walt McGough
Boston Playwrights' Theatre
In a suspenseful showdown between the old and new guard, MFA Playwriting Program graduate McGough examines a profession where no one can be trusted. Directed by Elliot Norton Award-winner David R. Gammons and featuring Nael Nacer and Lindsey McWorter, "The Farm" is the last place you want to get caught off guard.
October 27 – November 20
"The River was Whiskey"
By William C. Fancher
Directed by James A. Petosa
Boston Playwrights' Theatre
A gritty ghost story set within the racial tensions of 1940s Mississippi, "The River Was Whiskey" by MFA Playwriting Program graduate William C. Fancher features original music by the playwright. This Southern Gothic pulses with past revenge and present retribution.

March 8 – April 1
"Deported: A Dream Play"
By Joyce Van Dyke
Directed by Judy Braha
at the Modern Theatre
Memories and dreams interweave in this tale of enduring friendship incorporating music and dance. Boston Playwrights' Theatre's 30th Anniversary season ends with Joyce Van Dyke's riveting story of the Armenian genocide -- celebrating the playwright's own family history and that of many Armenian families forever changed. Featuring Bobbie Steinbach.
Founded in 1981 at Boston University by Nobel Laureate Derek Walcott, Boston Playwrights' Theatre is an award-winning professional theatre dedicated to new works. At the core of the company's five programs is the Playwriting MFA offered as part of Boston University's prestigious Creative Writing Program.
For tickets and information, call 866-811-4111 or visit bostonplaywrights.org.